Falling in Love with Yellow Gold Engagement Rings
There are few decisions in life more momentous than choosing to get married. An engagement is a time of celebration and anticipation, spurred on by true love and joy. Couples from all walks of life pursue marriage, often with different goals and plans. However, one thing that most women have in common is the desire to show off the ring on their finger.
Because of this, finding the right ring is of the utmost importance. After all, the ring is more than a token of commitment; it is an emblem of the love that binds two people together. An engagement ring is a promise of something more–something special and something better. With all these connotations, it means a lot to any woman to have a ring that reflects who they are as a person.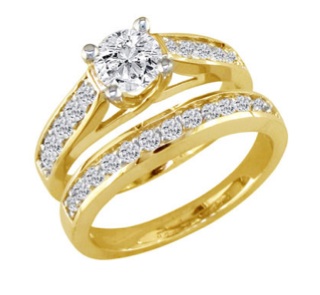 However, when it comes to engagement ring shopping, finding the right ring to fit the bill can be much harder than it looks.
After all, there are countless styles of rings, with different metals, stones, and mounts. Sometimes taking in all the options can be overwhelming, but it is important to persevere.
Ring shopping is well worth the effort. To help make it easier, it is important to know a little about the major types of rings to focus one's search.
Grace and Elegance with Yellow Gold
Yellow gold engagement rings are one style to consider. These rings are defined by the type of metal used to create the mount and the band. The three most common types of metal are yellow gold, white gold, and platinum. While both white gold and platinum will have a silvery appearance, yellow gold holds true to its name with a bright golden finish. Accordingly, these rings often make a bold statement on any finger.
Yellow gold engagement rings can come in various degrees of quality, depending on the purity of the metal. Gold is measured in carats, and the higher the carat value, the more pure the metal is. In this way, twenty-four carat yellow gold rings have a purer gold makeup than a fourteen carat yellow gold ring.
The purer the gold, the more precious the metal, and rings with higher carat counts are generally considered to be more valuable. However, it should be noted that purer metals are sometimes also softer and more prone to warping over time. Regardless, yellow gold engagement rings are still often considered a classic option, providing a more eye-catching pop for the bride to be.
Design Versatility
One of the real benefits to considering yellow gold engagement rings is that there is a vast selection available. Yellow gold merely describe the material used to make the band; the rest of the ring's design can be truly individualized. From clean and classic cathedral mounts to more modern squared off looks, yellow gold engagement rings are well suited for a wide range of women.
Yellow gold also looks spectacular with detailing, sometimes being preferred for intricate filigree work on the band. Yellow gold also makes for an impressive mount, working well with any cut of diamond. Round diamonds, princess cut, square stones: yellow gold works well with them all, and yellow gold can also be a stunning choice for women who prefer to add a bit of color to their engagement rings, maybe with a ruby or sapphire.
Consider these design options for yellow gold engagement rings:
scroll detailing
trellis style band
contemporary designs
antique
bezel settings
engraving
curved baskets
In all, no one look captures the essence of yellow gold engagement rings. In recent years, the silvery finish of white gold and platinum has grown in popularity, but clearly yellow gold has much to offer, and can be used in any ring design seen with other metals. The golden finish, however, adds a distinctive air to any design style, making it a must to consider.
Endless Shopping Possibilities
Fortunately, yellow engagement rings are easy to find at any jewelry retailer. Though the selection may not always be quite as vast as it is for platinum or white gold rings, any jeweler will carry yellow gold pieces.
This means that individuals shopping at any price point can find the yellow gold engagement ring of their dreams, starting at larger chains such as Helzberg Diamonds or Kay's and extending to more pricey local boutiques. This allows shoppers to compare and contrast the options and prices at a wide range of stores, making it easy to find the right ring at the right price with a beautiful yellow gold band.
Availability at all Price Points
When it comes to pricing yellow gold engagement rings, the range is quite large. The pricing of any ring will depend on several factors, including the quality of the materials, the size, and the intricacy of the design.
Most often, the size and quality of the stones is going to be the most important factor when it comes to pricing a ring, with larger, clearer diamonds costing more money. Individuals can change the price of their ring significantly by simply picking a stone with a lesser clarity and more imperfections.
However, the type of metal and the design of the band and mount will also impact the total price of an engagement ring. When it comes to yellow gold, individuals can expect to pay more for a higher quality gold. Twenty-four carat is often considered to be one of the finer types of yellow gold, which is why it costs significantly more than a comparable band in fourteen or seven carat yellow gold. The more gold used for the band, the more expensive the ring. However, many women prefer to have bands with some thickness in order to strengthen the ring for everyday wear.
Cost of Yellow Gold
The cost of yellow gold is comparable to white gold, with often a negligible difference between the golds when purchased at the same carat. Yellow gold is in fact cheaper than rare colors of gold, such as rose.
Other metals, such as platinum or titanium, will usually carry a higher price tag due to an increased purity of these metals. To this end, yellow gold engagement rings can start off at 500 dollars and easily cost as much as 3000 and beyond. In fact, for those who are looking for large sparklers for their finger, a yellow gold engagement ring can cost in the tens of thousands of dollars.
Saving Money on Yellow Gold
To save money on yellow gold rings, consider purchasing a band at a lesser carat. To the untrained eye, there is virtually no difference between twenty-four carats and fourteen carats, and yet the price differential is usually worth noting.
It is also a good idea to shop around when looking for engagement rings, and to be sure to pay attention to sales. Many major jewelers will rotate their stock, sometimes offering discounts on last season's designs. Other discounts may be available for purchasing a matching pair of wedding bands at the same time.
Finding the Right Ring
All things considered, yellow gold can be a wonderful option for any engagement ring. The only factor that really makes any difference in the end is the woman's opinion of the piece. For men who are doing the shopping alone in order to surprise their bride to be, this can be a source of anxiety. To help ease the angst, it might be a good idea to not only shop around but to do a little research on that special woman.
For some men, this can be as easy as simply asking about jewelry preferences. To get started, here are some good things to try to find out:
Metal preference (white gold, yellow gold, platinum)
Design style (antique, contemporary)
Design details (simple, scroll work, filigree)
Diamond cut (round, princess, square)
Ring size
For the guy who may be trying to surprise their soon-to-be finance, there are still ways to get some of this information without being overt. The key is to be attentive. It can be easy to start by simply looking at other jewelry she already owns and seeing what colors and styles she seems to prefer. If she has all yellow gold jewelry, choosing a platinum ring may not be the best complement to her collection. Also, if she's not into flashy pieces, a smaller ring may be more her style.
Ring Sizing
Sizing can be more of a trick without asking outright. However, if she has another ring that fits on her ring finger, it is possible to take that ring while shopping for the jeweler to use as a comparison to size the new ring. It is often best to know the size prior to purchasing in order to avoid having to get the ring sized afterward. While it certainly is possible, it does delay when the girl gets to put it on her finger, which can be a hard thing for most women after receiving their engagement ring.
It can also be helpful to discuss price before purchasing a ring. Financial discussions are important to any relationship, and it is helpful for both parties to know how much money they plan to invest into their engagement and wedding. These discussions can be especially helpful to ensure that the woman is not disappointed by a smaller ring when she may have been expecting something larger.
Overall, though, the most important thing when purchasing any engagement ring is simply the time, effort, and love put into the purchase. After all, even though women may flaunt their engagement rings, they are not just excited about the metal and stone on their finger, but mostly their future with the man they love.