Weddings are a momentous occasion for all parties involved, and when planning for this special date, there are many factors that must be considered before and after the wedding.
Weddings are not cheap, and those who do not have unlimited funds may find themselves looking for ways to cut costs and keep the event glamorous as well as economical. One of the best ways to save money on one aspect of your wedding is to purchase less expensive wedding bands instead of the pricey rings that may cost up to $1000 or more.
Finding the Right Wedding Ring
The best way to look for an economical wedding band is to choose one of the alternatives to gold or platinum, which are available in almost every jewelry store of the present. These alternative metals can be just as lustrous and original as white or yellow gold, but they will be a fraction of the price. Some of the alternative metals that one may find to their liking may be any of the following:
Tungsten
Stainless Steel
Titanium
Palladium
All of these metals are a great choice when looking for wedding bands for both the bride and groom, which will be far less expensive than traditional gold or platinum.
Inexpensive Wedding Bands: Tungsten
Tungsten is a metal that is very durable and has a high Moh's scale around 8.75, which is higher than both stainless steel and titanium. The metal is taken from the ore of Wolframite and also has an extremely high melting point.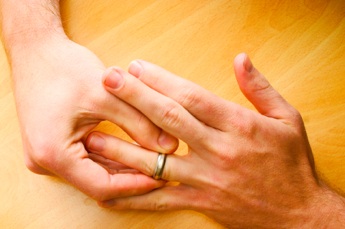 For these reasons, tungsten has become very popular in making scratch resistant jewelry over the past few decades.
Before it can be made into solid form, the metal must be combined with a material known as carbide, which makes the metal often referred to as "tungsten carbide."
Tungsten is combined with carbide to make wedding bands for both sexes due to the fact that both men and women may work in environments that require the constant use of their hands.
Tungsten Characteristics
Because of the hardness of the metal, it can be polished with heavy abrasives, which will leave it a lustrous shiny gray. This color is a top choice for wedding bands because it matches both white gold and platinum. Another reason that tungsten is such as popular choice when it comes to wedding bands is its durability.
For those who work with their hands, this metal is perfect because it can withstand heavy abuse without scratching, bending or breaking. The price range for a tungsten ring can vary depending on what style you desire. However, for larger widths up to eight millimeters, expect to pay anywhere from $100-$250.
Inexpensive Wedding Bands: Stainless Steel
Stainless steel is one of the most popular metals of the present. Many people are choosing this metal for home appliances and cookware for a number of reasons. Stainless steel has been a part of the world's history for over one hundred and fifty years when the mixture was discovered in approximately 1821.
Stainless steel is a metal that has been mixed with high amounts of chromium, which once fired, will not corrode or rust even in the harshest environments. This is one of the main reasons that the metal is now being used in wedding bands and other pieces of jewelry. Wedding bands need to be durable and tough, which is why stainless steel makes a great material for wedding rings.
Stainless Steel Characteristics
Traditionally, stainless steel has been a lustrous metal that resembled the color of chrome; however, with technological innovations of the present, stainless steel can be slightly colored to give it a darker shade that resembles smoke or charcoal. The additions of these colors to the metal have made this ring a very popular choice for wedding bands. Also, the addition to inlays and etchings make this a great ring to customize.
One could add his or her initials, religious affiliation, or just about any other design into the ring for a very small fee. Another great aspect of stainless steel is that it is very inexpensive. One can purchase a stainless steel wedding band far cheaper than any other of the featured metals available in wedding rings. There are some stores where one may find an eight millimeter ring as cheap as $40.
Inexpensive Wedding Bands: Titanium
Titanium is a metal that is now used in virtually everything that needs a strong, corrosion resistant, lightweight metal. Some of its physical uses are in spacecraft, sports, biological prosthetics, and of course, wedding bands.
This metal is one of the most lustrous metals available, and it is great for jewelry because it is extremely lightweight. Titanium actually has the highest strength to weight ratio of any metal known to humankind. There is no doubt that this metal would be perfect for wedding bands and jewelry in general.
Titanium Characteristics
Its shiny, lustrous color mimics other sought after metals such as platinum and white gold although it is a portion of the cost. Titanium is one of the most economical wedding bands next to stainless steel, and like stainless steel, it can be colored or darkened. A very popular form of both stainless steel and titanium is the blackened color.
Both of these metals have the ability to become a solid black, which will allow for shiny inlays or etchings. However, stainless steel is less durable and not as lustrous, which makes Titanium more popular in the eyes of most people. The cost of titanium does not differ much with size. One will only pay a fraction more for an eight millimeter band as he or she would for a two millimeter band, which will be somewhere in the range of $75-$120, depending on size.
When searching for the perfect wedding band at a low cost, be sure not to overlook the option of titanium. It will stand up to a hard day's work, and give the wearer a shiny ring that will keep its luster for many years to come.
Inexpensive Wedding Bands: Palladium
Although platinum has been a very popular choice for the last two decades for wedding rings in general, many have found that the price far exceeds the actual value of this metal for everyday wear. Due to this reason, there has been a significant increase in the demand for platinum's sister metal, palladium. Palladium is a metal that has all of the shine and luster of both platinum and white gold.
Also, Palladium is much stronger than platinum, and will not tarnish like white gold, which makes it perfect for those who are looking for an economical approach that still holds significant value. Palladium is a metal that is mixed with a small amount of another metal such as nickel, which adds to its white appearance.
Choosing Palladium
Another great reason for choosing palladium over platinum or white gold is the actual cost. Due to an increase in the demand for both platinum and gold, their prices have been on an uptrend that has those metals at historical highs. Until the value of these metals drop, prices will be extremely expensive for their purchase.
However, palladium is only a fraction of the cost of both platinum and white gold, which makes it a very popular choice for most people who are looking for an economical approach for their wedding bands. You can find palladium bands in size widths as small as two millimeters, which can cost around $100, or you may want to purchase the eight millimeter band, which will be $500 or more.
Inexpensive Wedding Bands: So Many Choices
With so many choices for wedding bands, some may find it confusing when he or she begins their search. However, this does not have to be a daunting decision. Find the amount of money that you wish to spend on the wedding ring and bands and go from there. Some choose to go with a less expensive metal in order to have an etching or design on the ring.
Some may choose to forgo any designs or etchings but purchase the nicest ring that their money will allow. You will most likely find that you will have a number of choices even on the smallest of budgets, which will give you plenty of options for your wedding bands. Always keep in mind that the prices of these metal bands can depend on their width, but far more often the style of the ring will dictate its overall cost.