Princess-cut diamonds are considered the "most important new cut or shape for diamond rings since the invention of the round cut more than 60 years ago."1 Unlike their oblong, emerald-cut cousins, princess-cut diamonds are afire with a brilliant light reflecting off of its multiple facets. A rough diamond that is square in shape and fairly deep is an excellent candidate for a princess-cut stone.
The Princess Cut was first patented in the 1970s and became an instant hit for its brilliance combined with its clean lines. Today, the princess-cut diamond remains one of the most popular choices for engagement rings.
The cut of the stone more closely resembles the cut made for a round stone. The stone is tapered, like a brilliant-cut round stone. However, the corners are left intact, giving the princess-cut diamond its square shape. Because the corners are left intact, the princess-cut is also a favorite among stone cutters and it can be produced with less waste than any other cut.
Tiffany & Co.
What woman's heart would not melt at the sight of the famous blue Tiffany box? Nestled inside could be one of Tiffany's signature princess-cut engagement rings, winking beautifully in the light.
For simplicity and elegance, the traditional Tiffany Setting allows the diamond to be the star of the show. A classic platinum band with beveled edges beautifully reflects the light up towards the diamond, creating a dazzling display of fire and light. This setting is as popular now as it was when it was created over one hundred years ago, proving that excellent taste is timeless. A one-carat weight princess-cut diamond set in the traditional Tiffany band is a mere $9,200.00. The price depends on the color and clarity of the diamond. And it comes with its signature blue box.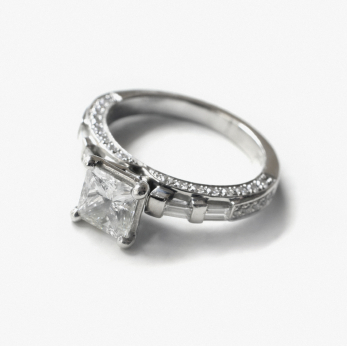 Zales
Zales is, arguably, one of the most popular jewelry stores with an online presence and kiosks in many shopping malls. Zale's offers a variety of princess-cut engagement rings from the plain to the fancy.
A beautiful, one carat total weight solitaire engagement ring is $1,999.00. The expertly cut center stone is held securely in place with a four-prong setting. The wide 14-karat white gold band tapers upwards towards the center stone. Two bezel-set round diamonds grace the front and back of the ring, nestling under the princess-cut diamond. This ring is stunning in its simplicity. It will delight the discerning lady.
Perhaps 14-karat yellow gold is preferred. Zale's offers a one-and-a-quarter carat solitaire engagement ring for $4,299.00. This sleek, low profile ring is perfect for the modern woman with a touch of romance.
Zale's also offers a selection of previously owned engagement rings that have been beautifully restored to their original luster. A three-quarter carat princess-cut diamond is flanked by four diamond baguettes. Pave-set, round diamonds announce the beginning of the baguettes, and further illuminate this lovely ring. For only $2,144.50, this fanciful, elegant ring is sure to please the most romantic of women.
For thoroughly modern elegance, Zale's offers a one-carat total weight diamond engagement ring in 14-karat white gold for $1,999.99. The center princess-cut diamond is raised and securely held in a four-prong setting. Highlighting the star of the show are eight smaller channel-set princess-cut diamonds, four on each side, drawing the eye and the light towards the brilliantly cut center stone. This is a ring that calls attention to itself and to its owner.
Truly a princess-cut ring fit for a princess, Zale's offers a two-and-one-half carat total weight stunner for $7,499.99. The finely cut center stone sits on a raised picture frame of smaller diamonds. The 14-karat white gold band is adorned with three rows of diamond accents. Light seems to magnify itself around this gorgeous engagement ring. Thousand of facets endlessly reflect the light to the princess-cut center stone.
Amazon
Though widely known for their Kindle and making electronic books easy to take on a trip, Amazon offers a wide variety of engagement rings, as well. As it is a super-store, not all items are available at all times and in all sizes. The following rings are available at the time of this writing.
A one-carat total weight princess-cut engagement ring in 14-karat white gold, list priced at $2,399.99, is available for $959.99. One hundred brilliant cut diamonds accent the three-eighths carat princess-cut center stone for fire and brilliance that are sure to please. The band is lined on three sides with ornate etching and pave-set diamonds. The center stone sits on a pedestal of more etched white gold and pave-set diamonds, and the same motif elegantly frames the ring's crowing glory. Not for the shy and retiring, this ring is sure to take center stage and steal the heart of any woman lucky enough to receive it.
At slightly over one carat total weight, Amazon also offers a simply elegant ring in 14-karat white gold or yellow gold, list priced at $1,999.99 for $959.99. Understated elegance is the key to this lovely princess-cut engagement ring. The brilliantly cut center stone is the main attraction. Baguette diamonds frame the ring's shank, delicately echoing the elegant center stone. A narrow, tapered band is all the accent that is needed to complete this lovely ring.
Additional Choices
Delicate as a flower, and breathtaking in its beauty, Amazon also offers an eighteen-karat white gold engagement ring, list priced at $6,700.00 for $2,950.00. This gentle beauty has a band lined in channel-set diamonds leading to the center stone – a princess-cut gem at slightly over one carat total weight. The fifteen total diamonds in this ring add up to 1.95 carats of brilliance and shine in a fresh, new look that will not only catch her eye, but also win her heart.
For those people with more traditional tastes, Amazon also offers a 14-karat white gold ring, list priced at $2,795.00 for $1,395.00. The narrow band of this classically elegant ring is adorned with a leaf-patterned scroll work on the two side faces. The same delicate scrolling continues for the lower half of the top face of the ring, lending to the old-world charm of this handsome engagement ring.
Channel-set diamonds take over where the scroll work ends on the top face, providing a straight, illuminating line to the center stone. A one-half carat princess-cut diamond is the centerpiece of this beautifully crafted ring. It is sure to bring out the romantic side of any woman.
The Four Cs
Color, cut, clarity, and carat weight are all critical factors when choosing a princess-cut engagement ring. After all, a ring may cost $10,000.00 at Tiffany's while a similar ring may only cost $2,000.00 on Amazon. But be sure that you are accurately comparing the two rings. There may well be a darned compelling reason why the engagement ring from Tiffany's is priced so much higher.
The first factor to consider is color. While white is the usual color for engagement rings, diamonds do come in a variety of colors ranging from pale yellow to brilliant blue or pink, subdued brown, or, the rarest of all, red. Generally speaking, white diamonds are graded for color, or rather their lack of color. The grades are expressed as ranges with D, E, and F as colorless; G, H, I, and J as nearly colorless; K, L, and M as faint yellow; N, O, P, Q, and R as intensely light yellow; and S through Z as light yellow.
The next factor to consider is cut. Princess-cut stones are, in reality, brilliant-cut stones in a square shape. The diamond's fiery appearance is determined by its crown height and angle. The crown is the flat surface that admits light into the diamond. In a brilliant-cut princess diamond, the crown admits light that is then reflected off of the many facets carved into the stone. When all of the ratios are correct, the princess stone is one of the most brilliant, reflective cuts, ensuring its popularity as the engagement ring of choice.
Important Ring Tips to Keep in Mind
As they are a natural stone, all diamonds will contain some flaws. A diamond's clarity refers to the number and type of flaws that can be seen under 10X magnification. The clarity scale runs from Flawless in which no blemishes or inclusions are detectable to Included in which the defects can be seen without any magnification.
Diamonds are measured by weight, rather than by size. A carat equals 200 milligrams of actual weight. Larger diamonds are more rare. Therefore, they are more expensive. A one carat diamond ring will cost far more than a one carat total weight diamond ring in which the weight is divided among three smaller stones. Also, consider purchasing a ring that is slightly under the total carat – a .90-carat stone rather than a 1-carat. The cost savings are tremendous, and once the stone is set no one will ask where the other .10-carat is.
Most importantly, ensure that the ring comes with a certificate of authenticity. Whether the ring is purchased at Cartier or Wal-Mart, a certificate of authenticity will guarantee that the ring meets certain standards for color, cut, clarity, and carat weight.