Queen Victoria became the Queen of England at a fairly young age, after the death of her uncle. In 1837 she was crowned at the age of eighteen. Shortly after, she fell in love with her cousin, Prince Albert from Germany. They were married in 1840, and she gave birth to five daughters and four sons.
In 1861, Albert died suddenly of typhoid. Queen Victoria was overwhelmed with grief, and for a time, she refused to appear in public. She loved her husband so much, that she mourned him and wore black for the rest of her life. She died alone in 1901 at the age of 80.
Queen Victoria Influence
The years that Queen Victoria ruled England, from 1837 to 1901, is appropriately known as the Victorian Era. This was a time of great change and development. Although this age has been described as "old-fashioned," it was during this time that many advances were made in medicine, science, and technology.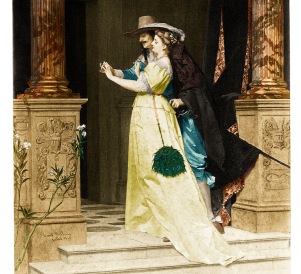 Victorian engagement rings are becoming more and more popular today.
With people looking to get away from the mainstream, these beautiful rings can make a perfect choice for that special person.
Victorian Engagement Ring Styles
There is no real one style for engagement rings from the Victorian Age. Many of these rings differed greatly from one another, but they had a few things in common. Today, yellow gold is becoming less and less popular as the metal used in engagement rings. White gold and platinum have grown immensely in popularity. In the Victorian Era, most engagement rings were made from either yellow or rose gold.
Although considered rare today, rose gold was very popular for Victorian engagement rings. The pinkish hue in the gold is due to the copper that the yellow gold is mixed with.
The more copper that is added to a gold alloy, the pinker it will be. Pink was – and still is today – a romantic color, which made it a popular choice for a sweetheart's ring.
Engagement rings of today typically contain one large diamond. During the Victorian Era, a variety of different colored stones and small diamonds were used. These stones included sapphires, rubies, emeralds, pearls, and opals. Sometimes diamonds were not even used at all. Before 1870, diamonds were scarce, and a ring with large diamonds was rare. If an engagement ring had diamonds at all, they were small.
After the diamond mines opened in South Africa in 1870, larger diamonds became more popular since they were much more easily accessible.
Victorian Engagement Ring Designs
There was no hard and fast rule pertaining to the design of Victorian engagement rings. No one style dominated the engagement ring business. There were, however, some designs that were more popular than others.
Snake engagement rings were probably, by far, the most popular design. Perhaps the reason for this was the fact that Queen Victoria herself wore one. These rings consisted of two serpents intertwined. One serpent stood for the bride and one serpent stood for the groom. Often times, the ring was accented with different stones.
Today, the idea of giving an engagement ring designed to look like serpents may seem a little grotesque to some women. In the Victorian Era, though, quite the opposite was true. A serpent ring was considered very romantic. The serpent symbolizes eternity; the idea was that the two lovers would be together forever.
Regard Rings
Regard rings are also known as dearest rings and romantic rings. These rings were usually gold bands that were encircled with stones. Many times these were colored stones, or alternating colored stones and diamonds. It was unusual but not unheard of to see a ring of this sort with nothing but diamonds.
These rings get their names from the sentiments spelled out on the ring. Many times they would be engraved with words such as dearest, regard, or love. Three stone engagement rings are quite popular today, and they were made popular during the Victorian Era. The most popular stones today for a three stone ring are diamonds, more times than not.
Victorian three stone engagement rings may have had a diamond in the center which is accented by two smaller, colored stones.
These could include anything, but one popular choice was seed pearls. There may also have been a large colored stone with two small diamond accents, or no diamonds at all.
Reasons to Choose a Victorian Engagement Ring
A traditional engagement ring may be what you're looking to buy for that special someone. Other, less traditional styles, may also be worth considering. Victorian engagement rings, especially, not only offer beautiful styles and craftsmanship, but have a number of other advantages over traditional styles.
One of the main reasons that people choose a Victorian Era engagement ring, besides beauty, is the fact that it's different. Instead of conforming and blending in with everyone else, they have something special. Their ring stands out in the crowd. In many instances it is one of a kind.
There are some women that do not like diamonds. This may sound like an erroneous statement, but believe it – it's true! Many engagement rings from the Victorian Era have no diamonds at all. Some may have only small diamonds for accenting a larger, more colorful stone.
Choosing Diamonds
On the other end of the spectrum, there are some women that LOVE diamonds. Unfortunately, a large diamond is rather expensive. If you simply don't have the money for a large diamond, perhaps an antique Victorian engagement ring is just the thing. Many of these rings were crafted to emphasize the size of the diamond.
The history and romance behind an authentic antique Victorian engagement ring adds to its character. This can add awe and magical whimsy to an engagement ring. Imagine putting a ring on your beloved's finger that has already been a part of a great love story.
A Victorian engagement ring is an heirloom, especially if it has been passed down in your family. It is special and priceless, just like your bride to be.
How to Know if She'll Love a Victorian Engagement Ring
It is supposed to be the thought that counts. Unfortunately, in the real world, this isn't always the case. Although it would be great if your bride to be absolutely loved any ring you picked out, no matter what the style, this isn't always true. Every woman has different tastes, and what one woman loves, another may hate. So, how do you know that she'll love a Victorian engagement ring?
Pay attention to her style. If she is more classic and traditional than modern, a Victorian engagement may be just the thing. These rings have a very "old" feel to them. Women that appreciate classic, timeless styles will, most likely, love a ring from the Victorian Era.
If she had her choice, would she rather visit a high end, modern boutique or a little known antique store? If she would choose the antique store, chances are, she would fall in love with you all over again if you present her with a Victorian engagement ring. It does not necessarily have to be an antique, but that would add to the charm.
When in doubt, ask a close female friend or family member. Just make sure they can keep a secret if it's meant to be a surprise proposal! Women are more in tune to tastes and styles of the people they are close to. Men usually have a general sense of what a woman may like, but not many of them can hit the nail on the head. A close female friend can be an amazing ally when it comes time to pop the question.
Getting the Correct Ring Size for Her
Nailing down a ring size can be a bit difficult, but with a little ingenuity, it's quite possible. The easiest way is to ask her, but if it's supposed to be a surprise, you may not want to do this. This is where her friends come in. Many of them will either know, or they can find out.
Another way to get her ring size is to "borrow" one of her rings. Take it to a jeweler and get it sized. If obtaining a ring isn't possible, trace the inside on a piece of paper or make an impression in some clay.
If you find an antique Victorian engagement ring, and it is "the ring," there is a good chance that it may not be the right size. Since women were smaller back then, it may be hard finding the correct size. Rings can be resized to a certain point, but resizing up more than a few sizes is difficult, if not impossible.
Buying the Ring
Many local jewelers and chain jewelry stores can resize a ring for a small fee. Ask for recommendations from family and friends. If you're worried about a large diamond being stolen and switched out during the resizing process, ask the jeweler how they can guarantee this won't happen.
Almost all diamonds have tiny imperfections in them. A good jeweler will show you this under a loupe. This same imperfection can be checked for when you get your ring back.
What You Can Expect to Pay for a Victorian Engagement Ring
The price you will pay for an antique Victorian engagement ring varies. It will depend on the size of the stone, design, and age of the ring. Other important factors that will determine the price is the rarity and history of the ring. If it can be proved that an engagement ring belonged to an important person, such as a princess or even a queen, you will be shelling out quite a bit of money. Good places to start looking are auctions, antique stores, estate sales, and online.
There are some jewelers that make replicas of Victorian engagement rings. These can either cost more or less than an antique. These rings, though, may not have better craftsmanship than an antique, and they certainly don't have the same history and character.
An old rule of thumb is that a man should spend about two month's salary on an engagement ring. This isn't a hard and fast rule, and if you can't afford it, don't spend it. A gorgeous and unique antique engagement ring can be found for a couple hundred dollars – or less – if you shop around. On the other hand, there are some that can be purchased for thousands. Of course, spending thousands of dollars on a ring is nice, but it won't be so nice starting your new life with your beloved in debt.