Antique Wedding Bands & Rings
The idea for wedding rings originated centuries ago in Europe. The tradition is to wear the wedding band, typically along with an engagement ring on the base of the left-hand ring finger.
There are many variations on this tradition. For instance, sometimes the name of the spouse and proposed date of marriage will be engraved somewhere on the ring. Other times, the wedding band, and engagement rings are worn.
This is, in addition to other pre-engagement rings, intended to symbolize lasting commitment to one another. However, one chooses to marry, there is most likely a wedding ring involved.
Shopping for the Right Wedding Ring
Shopping for a wedding ring can be both exciting and overwhelming. There are so many choices. Everyone is simply looking for that perfect ring. When trying to figure out which ring to purchase there are several items to keep in mind.
The first is metal. Yellow gold, white gold, rose gold, platinum and palladium are just a few options. Additionally some rings are available with a multi-toned option, for instance white and yellow gold combined.
The next option to consider is style. Whether it is vintage or modern, one should have some idea of what style of the ring is most desirable. Then there are details, such as a pattern or design on the ring.
Additional Ring Tips
There should also be diamonds on the wedding ring. Also, ring characteristics such as thickness and of course available sizes need to be considered. By following this method, it will be much easier to find the ideal wedding ring.
Antique Rings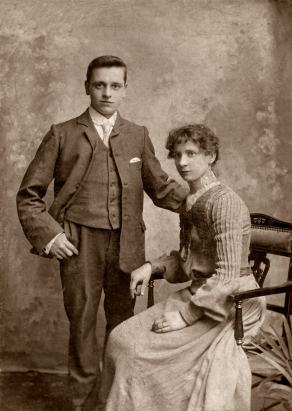 The term "antique" refers to any style of a ring that is pre-contemporary.
In essence, any style that is older than a half century is typically considered an antique.
An antique ring can be a ring that was made during the period and worn at the time, or it can be a ring that is made in the present based off an antique style.
These rings are often sold in specialty antique ring stores or can be found online. Also, modern jewelry stores may emulate many of these antique styles in their current collection.
Price Factors for Antique Rings
Typically, rings that are from the period itself are much more expensive than modern rings fashioned after antique styles. Also, the older the ring, the more expensive it is. Another factor that affects the price is metal.
Diamonds, incorporated into the design, will also affect price. As of today, antique styles range from art deco all the way back to the Victorian era. Each period has its distinct, beautiful characteristics.
Art Deco Period
This period is considered the most recent in the series of antique rings. Art Deco style was first introduced in 1925 at the French Exposition of Modern Art.
This trend carried on through the following decades and remained fairly popular up through the 1960s.
These rings are typically characterized by geometric patterns and shapes with unique angles giving them a decidedly distinct look.
This style translates in a variety of ways into the ring. Firstly, there can be a pattern cut directly into the band itself. This pattern is, typically, geometric in nature.
Shaping the Design of Rings
Sometimes it is symmetrical. Another way that Art Deco influenced wedding rings is by changing the band shape itself. Instead of the ring being a complete circle, there may be a jut-out portion or bent and distorted segment giving it an unusual flair.
However, the most popular design during the art deco period was a wider band set with diamonds all the way around with geometric designs cut into the band around each diamond.
Typically these rings cost upwards of $1000 some even exceeding $2,000. Art Deco rings are an excellent option for those looking for an antique style that has a quirky and unconventional twist.
Edwardian Era
Preceding the Art Deco period was the Edwardian Era, which lasted for the first decade or so of the twentieth century. This period began with the death of Queen Victoria and the succession of her son Edward.
It is marked by a surge and emphasis on fashion and luxury, making the wedding rings of this period incredibly extravagant. These rings have elaborate designs with intricate engravings and embellished jewel cushions.
Additional Gems & Stones
Also, many of these rings incorporate gems and stones other than diamonds into their design. Emerald, amethyst, ruby and aquamarine were particularly popular. These rings are undoubtedly best suited for those who are not afraid to be bold in their selection.
Wedding rings for both men and women are incredibly luxurious and may not necessarily suit everyone's tastes. Most of these rings are well over $1000, starting closer to $1500 and higher.
However, if one shops carefully, one can find rings of a simpler style for under $1000. These rings are typically far simpler in design and do not include any gems or stones. For anyone looking for a lavish statement piece, and Edwardian wedding ring would be an ideal place to begin searching.
Victorian Era
This is typically the earliest era from which rings still exist. It is extremely rare to find any lasting rings prior to this period except for replicas and remakes. The Victorian Era began in the early nineteenth century and peaked in the 1840s.
It lasted all the way up to Queen Victoria's death at the turn of the twentieth century. These rings are typically marked by an ornate style. However, this was still a time where there were dramatic gender roles in society and men's and women's rings differed dramatically in style.
They were not intended to wear matching wedding rings as has now become custom. Therefore, this period is not ideal for finding matching Victorian rings, however, if one desires matching rings, one may be from the Victorian Era, while another ring is found to match it.
Men's Rings
Men's rings, of this era, are bold and jeweled. They were designed to demonstrate wealth and status and typically have unusually large silhouettes. The women's rings, on the other hand, are much smaller and more delicate.
They have incredibly ornate and intricate designs and have a dainty appearance. This suits the attitude at the time that women were to be demure and polite, and this sentiment is certainly reflected in the wedding rings of the time.
Pricing of Victorian Rings
Nonetheless, the rings are beautiful pieces of exquisite artwork. High quality Victorian rings begin usually just under $2,000; this is because genuine rings are considerably rarer than those of more recent periods.
However, replicas are far cheaper and can usually be found for less than $1,000. These rings represented a time of global opulence. This opulence is reflected in the intricacy of the rings.
Pre-Victorian Styles
It is extremely rare that there are rings older than the Victorian Era available for purchase. Not only have these pieces been lost over time, but also many that still remain have been passed down within a family for generations.
Beyond that, any rings of high quality typically only belonged to the wealthiest of classes. Any rings of lasting quality would, therefore, have been remarkably few. However, as mentioned, many modern jewelers will have antique inspired rings in their current collections.
Oftentimes, these will be a more affordable price. These rings have the advantage of looking antique without having to pay the price of an authentic antique ring.
The Right Ring
Another significant consideration, when purchasing an antique ring, is ring sizing. Not all rings are able to be sized, and are sometimes only available in the original size. However, some rings may be popular enough that they are available in a number of sizes.
If it is a replica, it is usually easier to find the correct ring size. This is something one should always check before committing to a particular ring or style.
Sometimes the vendor will not size the ring even though the design and material permits. In this case, it is possible to take it to an alternative jeweler to have the proper size made. Be sure to check all this information before purchasing a ring.
Steps to Buying Right
The number one priority in every shopper's mind is simply finding the right ring. If an antique ring is the ideal style, the first step is to decide which period is most desirable according to the characteristics outlined above.
Price range is another key consideration and can make the difference between looking for a genuine antique ring or a replica of an antique design. There are many vendors, in local stores and online, that offer antique style rings. It is best to do research, on the many styles available.
Then, narrow it down to a general set of criteria, before searching through individual sellers and jewelers.
Buying Tips for Antique Rings
A wedding ring is a truly unique piece that is incredibly symbolic. There should be a lot of care and thought put in to the selection and purchase of the ring.
Finding one that is suitable and likeable is extremely valuable. Though the task may be grueling, the effort is well spent. In the case of purchasing an antique ring, simply following a specific methodology will lead to the perfect ring.