Tungsten wedding rings have become a popular option as an alternative to gold rings or rings made from other metals. Tungsten is a rare and precious metal, like gold, but it never needs to be polished, and is much more durable than some of the more traditional wedding ring metals. Over time, gold, silver, platinum, and titanium rings can become marred, scratched, and dulled.
Tungsten's polish and finish, however, can be preserved for decades. In the manufacture of tungsten rings, tungsten and carbide are combined and melted together at over two thousand degrees. These rings do not bend and are extremely resistant to wear and tear. They are heavier than rings made with other metals as well. Some people believe this extra weight and the perennial shine have a certain psychological effect, creating a feeling of permanence and commitment.
Price Range and Comparisons
The price of wedding rings can vary depending on the retailer chosen, the quality of the metal, whether it contains precious stones or any other features. When set with diamonds, depending on the gem size, tungsten rings can cost over $1,000. Plain wedding bands are usually under $200, and some can be found for under $100.
More features and customizations can bring the price close to $1,000. Before deciding on the metal you would like to use in your wedding ring, you may want to take a look at the cost of some of the other metals you can choose from.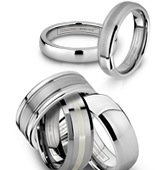 The price of gold wedding bands obviously depends on the carat size, and whether you want your rings to be white gold or yellow gold. Plain 14 carat white gold rings can be found for around $200, though it is a little more common to see them in the $300-$400 range.
The same ring in yellow gold is likely to be cheaper, often $200 or less. More carats obviously translates to a more expensive piece.
White Gold Ring
An 18 carat white gold ring will run from the high $400 range to $600, with the corresponding yellow gold ring ranging from $300-$400. These rings can also be found in 12 or 10 carats for cheaper prices. One of the things that people like about gold rings is that you can easily know the quality of the gold from the ring's carat amount.
Titanium
Titanium wedding bands are one of the cheaper options for wedding rings. Plain titanium rings can be purchased for around $100. However, many people like to add other metals to their titanium rings, such as gold and silver, which causes the price to jump.
Platinum wedding bands and wedding rings can be some of the most expensive, because of platinum's rarity as a substance. Rings made from this metal can run from $300 to over $1,000, with the midline price hovering at around $500. Added features and precious stones will drive up the price.
Palladium is another option for wedding rings. These plain wedding bands tend to start at around $200. Larger rings can climb to $600. As with other rings, setting these rings with gems will increase the cost.
Where to Buy and Brands
It is easy to find tungsten wedding bands and wedding rings through online stores. Tungstendirect.com is a source of tungsten wedding rings. This online retailer offers twenty-one different styles of tungsten wedding rings and wedding bands. Consumers can choose from beveled rings, black tungsten rings, ceramic rings, engraved rings, his and hers wedding rings, and many other styles.
Flat tungsten rings, a popular style in men's jewelry, are available from this retailer as well. With this retailer you also receive a lifetime warranty for your rings and bands. Tungstendirect.com manufactures their own jewelry, so they are able to back this lifetime warranty with confidence. They also are able to fashion custom rings per the consumer's request.
Tungsten World is another online retailer where tungsten wedding rings can be purchased. This online retailer works with several associations to ensure the quality of their products and service. These associations include Jewelers of America, Manufacturing Jewelers & Suppliers of America, and the Better Business Bureau. Tungsten World provides customers a lifetime warranty against breakage and against dulling. The sizing is also under warranty.
Tungsten World offers black tungsten rings, rings with inlay, faceted rings and traditional wedding bands. You can also choose a ring finish, such as a satin, matted, or brushed finish. You can purchase rings with grooves and custom laser engravings as well. There are also other options worth exploring offered from Tungsten World.
Superior Wedding Rings
Superior Wedding Rings offers tungsten wedding rings as well. Their rings are cobalt free, which is important for maintaining the quality of the jewelry. Since cobalt reacts to human skin, which ends up affecting the quality, and can lead to the ring being scratched or even shattering, high quality retailers and brokers do not make rings with cobalt.
This retailer provides a lifetime warranty guaranteeing the shine and durability of the piece. They offer both classic ring styles and trendier styles for discriminating buyers of all types. Some of their ring styles include domed rings, flat rings, beveled rings, black tungsten rings, and rings with brushed finish. This retailer also offers two types of custom engraving, either etch engraving or laser engraving. Superior Wedding Rings also manufactures their own jewelry and as a result their prices are competitive.
Tungsten Collection
The Tungsten Collection is an online retailer that specializes in tungsten jewelry. This retailer offers tungsten rings accented with silver and gold as well, in addition to couple rings, faceted rings, and inlay rings.
The Tungsten Collection offers a 30 day money back guarantee to its customers, in addition to a 30 day resizing exchange. The retailer offers a lifetime warranty and lifetime sizing. This is another retailer that does not use cobalt in their tungsten carbide rings, so there is no possibility of skin irritation and the rings will be durable and scratch-resistant.
Titanium Kay
Titanium Kay is another retailer selling tungsten rings. Though as their name suggests they do not specialize in tungsten jewelry, they do have a large variety of tungsten wedding rings. Some of the ring styles offered include domed rings, inlay rings, grooved rings and beveled rings. This retailer provides a lifetime warranty, including the lifetime durability of gems and diamonds, and custom laser engraving. Free refinishing is also offered for all of their jewelry.
Some brands of tungsten wedding bands and wedding rings are:
ArtCarved Bridal
Benchmark
Diana Classic
Heavy Stone Rings
J.R. Yates
Larson Jewelers
Triton
Sizing Options
One of the things to consider about tungsten wedding rings is that they do not have as many sizing options. Tungsten is a very hard metal. On the Mohs scale, which ranges from 1 to 10 and measures mineral hardness, tungsten falls between 8 and 9. This metal is far superior to gold, silver and platinum in scratch resistance, which measure between 2 and 4 on the Mohs scale, and even titanium, which falls at around 6.5.
As a result of this hardness and durability, however, these rings cannot be manipulated to fit fluctuating finger sizes. Resizing a tungsten ring means replacing it. Given this limitation, it is important for anyone purchasing a tungsten wedding ring to work with jewelers who provide lifetime resizing warranties, which may more accurately be described as lifetime ring exchange warranties. Be sure you read the terms of any warranties you plan on taking advantage of.
Getting the Best Price
To get the best value for your wedding band and wedding ring, it is important to take your time and refrain from being impulsive when shopping for these items. So that you can become familiar with the options available to you without feeling pressured to buy anything, it is a good idea to browse the websites of online retailers. It is much easier to surf these sites and check out their inventory and prices than walking into every jewelry store you see and asking to see several rings at once.
From this research you can get a feel for the look and style you want. You will also begin to learn about the numerous styles of rings available, something most people aren't aware of until they begin shopping for rings. As an example, you can choose to have precious stones set in your wedding ring if you desire. Once you have an idea of what is available to you and what you are looking for, you will be able to shop with confidence, whether online or in-person, and without feeling pressured to purchase something that you aren't convinced is for you.
Bundle and Save
You can also get a good price on your wedding ring if you have both the wedding rings and the engagement ring made at the same time. Try to purchase your rings as part of an all-inclusive bridal set, in which case the cost of the rings will be lowered substantially. Another tip is to select semi-precious stones in your rings instead of diamonds. If you feel comfortable purchasing your wedding ring through an online retailer, this can be preferable. Online retailers often have lower prices because of the lack of overhead.
Be sure to do research on the companies you are looking at buying from, however, to make sure they are reputable. Instead of shopping at a chain jewelry store, try to find an independent jeweler through whom you can make your purchases. The prices of independent jewelry stores tend to be more reasonable than those of chain stores. You should also frequent jewelry sales or take advantage of online deals in order to obtain beautiful wedding rings at the best possible price.