Titanium wedding bands have become increasingly popular in recent years due to their combination of durability, strength, and lightweight composition. Unlike gold which can bend or break with stress, titanium wedding bands hold up to extreme conditions and environments.
Titanium has the strength of steel with only about half the weight, making titanium wedding bands ideal for individuals who work in construction, manufacturing, landscaping, or other high-impact fields. Titanium is not indestructible; a titanium wedding band can and will become scratched like any other piece of jewelry.
Most minor scratches can be removed with metal polish. Additionally, many titanium wedding rings are of medical grade quality, meaning they are completely hypoallergenic and corrosion resistant.
Titanium Wedding Band Designs
The designs available for titanium wedding bands are virtually limitless. Titanium rings may be pure, inlaid with gold or platinum, anodized to show color, or may feature diamonds. Additionally, titanium wedding rings may have designs or images laser-etched into their surface.
Some popular styles feature a carbon fiber ring in the center, while others may be simple with only a decorative finish. Pure titanium rings are available in a high polish or satin finish. A satin finish is more matte than a high polish finish and must be cleaned with a special cloth. Titanium that has been anodized to show color, often blue or purple, requires more precautionary care than a plain titanium ring. The color present on an anodized ring is not a thorough feature, meaning that it can be scratched off but not rubbed away.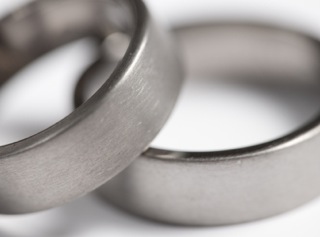 It should be noted that titanium wedding bands referred to as "black titanium" may not be anodized; rather, the titanium has been blended with small quantities of natural elements to produce the black color.
Diamonds found in titanium wedding rings may be inlaid or featured in a tension setting.
Numerous diamonds of .10 carats or less are usually inlaid; single diamonds of .10 carats or more are seen as a tension setting. Traditional diamond prong settings are not seen in titanium wedding bands, as titanium cannot be soldered like gold or silver.
Titanium rings may be inlaid with center bands of gold, platinum, carbon fiber, or titanium cable. Titanium rings with center inlays are usually wider than plain titanium wedding rings, and may not appeal to some people.
Pricing and Where to Buy
The pricing of titanium wedding bands is just as vast as the designs in which they are available. Like their traditional gold counterparts, the price of titanium rings depends largely on the included adornments. Plain titanium rings can be fetched for as little as twenty dollars on clearance, while black titanium or titanium with gold and diamonds can cost nearly $1,000.
Wedding bands by Edward Mirell, a fine titanium jewelry designer, run the gamut of just under $1,000 on sale to around $90. A higher priced band will usually feature a gold inlay or a number of diamonds. When not available on sale, Edward Mirell rings can cost as much as $1,500. Other popular titanium wedding jewelry designers include TRITON and ArtCarved. Titanium-jewelry.com carries wedding rings from all of these designers, plus a large selection of their own designs.
Designs by TRITON and ArtCarved range from $200 to $400. Justmetal.com, a supplier of titanium jewelry since the early 2000s, offers a variety of styles and designs for under $200. Jewelry giant Zales also sells titanium bands in their stores, though their online selection may be more abundant. Like titanium-jewelry.com, they carry Edward Mirell designs; prices range from about $80 to $450.
Shopping Tips
If the purchaser is looking to maximize his or her buying power, he or she should consider shopping for titanium wedding rings immediately after the holiday season. At the end of the year, many jewelers are trying to clear out the year's inventory and often sell items at closeout prices. Purchasing a titanium ring online is almost always cheaper than purchasing from a brick-and-mortar store, as online businesses often don't have the overhead costs of a traditional store.
Many jewelry stores and web sites stock aircraft grade titanium wedding bands, not commercially pure titanium. Aircraft grade titanium has been blended with metals such as tin or aluminum to increase the hardness rating, making an already durable metal even stronger. Because of this, it is extremely difficult to engrave aircraft grade titanium wedding bands, and nearly impossible to correct a mistake.
Commercially pure titanium rings are somewhat easier to work with and engrave, so the consumer should inquire to the construction of the ring before a purchase is finalized. However, it should be noted that not all stores will engrave titanium jewelry, as many do not stock the necessary tools to do so.
Buying Considerations
If the consumer is able to have his or her titanium wedding bands engraved with names or dates, it is best to be certain of what is wanted before finalizing the engraved design. This rule also extends to ring sizing. It may be a good idea to get sized when the consumer's ring finger is at its largest, usually on a warmer day.
Fingers naturally swell and shrink with temperature and blood pressure changes; a tight titanium ring will be very uncomfortable and may be difficult to remove until swelling subsides. Titanium ring sizes are available on a wide range, with many web sites and stores offering rings in sizes 4-13.