Although economies across the globe are in times of uncertainty, you should not have to put life's most important events on hold. For that reason, one should know that there are many options available when it comes to purchasing a ring before asking that special someone for her hand in marriage.
If visiting your local jewelry store has got you in a panic due to the cost of engagement rings, keep in mind that there are engagement rings that can be had for a fraction of the cost of jewelry stores. For some, being economical may mean the purchase of a cubic zirconium until you can afford an actual diamond. However, there are many ways to find that special stone now, instead of waiting until years down the road. One of the most popular ways to find an engagement ring for a discounted price is to find a wholesale engagement ring outlet.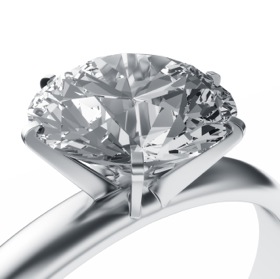 Although many of these dealers are not in traditional brick and mortar shops, you can find many of them online where you will find hundreds of choices for your potential bride to be.
With so many choices available for the average consumer at wholesale engagement ring dealers, you are sure to find one that will make her say yes before it is even on her finger.
The best place to look for wholesale engagement rings is online, where you will find online stores that specialize in these particular rings.
What are Wholesale Engagement Rings
Wholesale engagement rings are rings that were at one time purchased in bulk. Many of these rings are a part of a specific design that was in high demand, possibly one year prior to the present. Due to the fact that many diamond ring manufacturers create specific rings of the same design and style, there will always be a certain amount of rings that will not get purchased for one reason or another.
This creates a certain amount of diamond rings that will be returned to the dealer or possibly be auctioned off at greatly reduced prices. The reason for this is simply that jewelry stores must make room for the next shipment of present year diamonds. The people that buy these last year model rings are usually wholesalers or discount diamond dealers. Keep in mind that this does not mean that these engagement rings are any less desirable than what is currently in jewelry stores of the present.
This simply means that this model may not be the current diamond trend. However, it does not matter that a diamond ring may not be in the current trend, because a diamond is priced by its carat weight. The same rings true for the actual band, because the band is priced on the current market price of the metal that is used. The only thing on a wholesale engagement ring that may not be trendy is the design, which is a fact that most people do not know unless they are in the diamond industry itself.
Get Significant Savings
Those who are willing to purchase an earlier design from a wholesale dealer will stand to receive significant savings over buying a diamond ring in a jewelry store. This means that you can buy her the size and metal that she has always wanted without spending your life savings at the same time.
Wholesale Rings of Interest: Platinum
One of the most sought after metals in the world is platinum. This metal is used in many different electrical components and appliances as well as computers and other items that are used everyday. Due to such a high demand, the cost of platinum is at one of the highest values in history. A platinum engagement ring can be a very expensive purchase, especially when the band is pure platinum and is over one millimeter. For this reason, you should look to a wholesale dealer if you want to purchase a platinum ring.
You will not be paying for the design of the ring but basically for its metal weight and diamond weight. A ring that is very popular in wholesale diamond circles is the Platinum Round-Cut Colorless Diamond Engagement Ring. This ring is found at Diamond on Net, an internet diamond engagement ring wholesaler, and its product number is RN6045S-RDP.
Value and Characteristics
This elegant diamond is one of the best values on the internet based simply on the fact that its band is pure platinum. The center diamond is mounted on four prongs that bring this particular cut to the forefront of everyone's attention and can be found in three to five millimeter bands.
The diamond itself starts out at .25 carats and can be increased from there. The platinum band can be purchased in three to five millimeter sizes and is nearly worth the total cost of the ring itself. This ring can be purchased in its quarter carat diamond weight in a three millimeter band for less than $1100. With so much to offer along with a platinum band, you may not find a better deal on a platinum ring anywhere.
Wholesale Rings of Interest: Three Stone Rings
Over the last two decades, three stone rings have become fashionable to many people. These particular rings usually feature a setting in which there is one center stone, sometimes the largest stone, with two diamonds that are placed on each side of the center piece. Many women love this particular style of ring because of the three stone setting.
If you are looking for something of this nature, one ring that should not be overlooked is the Lucida 3 Stone Ring with Channel Set Princess Diamonds. This ring is a great value for all that is offered because it not only contains a center diamond, but it also has two diamonds that accentuate each side of the band along with a fully encircled diamond band.
The ring features two diamonds equal .50 carats. The center stone itself can be purchased in a .25 carat setting but can be upgraded all the way to 3.25 carats. The matching band that comes in this set is circled with diamond chips all the way around, which all total .50 carats in weight.
White Gold Option
These two rings can be purchased in white gold, which next to platinum is the most sought after metal for engagement rings. The ring also incorporates the most popular cut of diamond, known as the princess cut. The princess cut is a round cut that is able to extract light on all sides of the stone and display its sparkle in virtually any light that exists. She will fall in love all over again when you open the box and slide this ring on her finger.
You will fall in love with the price because the base model, which totals up to 1.5 carats, will only cost you $2000. You will not find a better price for a white gold setting with a diamond weight such as that.
Wholesale Rings of Interest: Create Your Own
Just because wholesale diamonds may not be the current most trend, you can still create your own ring by choosing different settings coupled with one of the many loose diamonds that are available. If simple is your style, you may go with the Gold Diamond Engagement Ring Setting product number RN1503D, which is found also on Diamond On Net. This setting allows the purchaser to choose a diamond as small as .50 carats but up to 3 carats.
The ring features diamond chips that adorn the upper portion of both sides of the band, which total .36 carats. The ring is simple but elegant, and once you add the diamond, you will give her a ring that will take her breath away but not before saying "I do." This ring setting can be purchased for $875, which includes the .36 carats of diamonds already on the ring. The ring can be coupled with a nice diamond for less than $2000.
Wholesale Engagement Rings and You
There is no doubt that asking for someone's hand in marriage will be an intense experience. However, with the help of wholesale diamond engagement rings, you can rest assured that you will get the best ring for your dollar that will knock her off of her feet.
Do not be afraid to begin your search today by logging on to the internet and performing a wholesale engagement ring search. With so many choices that are available, you will have many rings to search through for your potential bride to be.