When a couple is looking to purchase their wedding bands, there are several factors that should go in to the selection process. This band will symbolize the love, commitment, and relationship between a husband and wife and careful selection is important.
It is all about personal style and what feels comfortable to wear for the consumer, however, choosing the woman's wedding band can prove to be a little more of a task that the man's wedding band. Her wedding band is usually paired alongside the her engagement ring and needs to complement the ring. With so many different styles of engagement rings, the selection of wedding rings seems endless.
Are Women's Wedding Bands Expensive?
Consumers are always concerned with having to purchase yet another expensive ring. However, cost does not have to be a major issue when purchasing a wedding band. Depending on the style, one can spend as little as $89 at Gordon's Jewelers for a thin white gold band with no embellishments.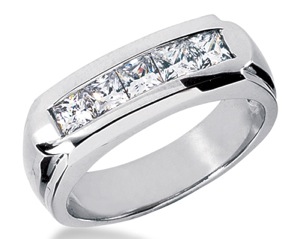 These rings can also be as costly as several thousand dollars if they are made from platinum and include many diamonds. It all depends on the budget of the consumer and style in which for they are looking.
With so many choices, one is certain to find the perfect complement to their bride's engagement ring for the right price.
The great thing about purchasing a wedding band is the personality that can lie behind the ring. There is no set of rules that states what one's wedding band has to look like.
Where to Purchase a Wedding Band
When looking for a bride's wedding band, there are a few things that should be taken into consideration before making the official choice. It is not necessary to purchase a wedding band from the same retailer that one purchased the engagement ring. However, using the same retailer may be beneficial both financially or stylistically. Some retailers sell wedding sets, which include both the engagement ring and matching wedding band, in order to help consumers save money and time by providing the perfect matching wedding band.
If the retailer does not provide one's engagement ring in a set, or the set is discontinued, it may be easier to find a match within the same retailer used for the purchase of the engagement ring. Many of the styles and embellishments may be similar and one can purchase a ring that is complements the engagement ring as opposed to being an identical match.
If one is looking to save money, one might consider looking at online retailers, such as Amazon.com or Overstock.com, for a solution. These types of online retailers provide quality pieces for a fraction of the price as some jewelry retailers.
How to Purchase a Woman's Wedding Band
One must first consider the budget that they have set aside for their bride's wedding band. Once a budget has been decided, one can comfortably begin their search. One should start with trying to match the type of metal of the wedding band from the metal used in the engagement ring.
Once one has matched the metal, they can decide the style of ring that they would like to purchase. This means deciding whether or not one would like to include diamonds, gemstones, or any type of embellishments on the ring. These are decisions that may alter the price of the ring itself.
Also, one must consider the type of lifestyle the bride leads. If she plans on constantly wearing her wedding band, but also has a very active lifestyle, it may be in her best interest to purchase a titanium wedding band instead of matching the metal to the engagement ring. Titanium is more durable and needs less care than a gold band. It is also much less expensive than a platinum wedding band. However, titanium bands cannot be re-sized so it is important to match the size of the ring perfectly.
Ring Sizing for Women
Thankfully, sizing is a much easier task for a ladies' wedding band than for her engagement ring. Since one already has had her engagement ring sized to the appropriate fit, one can use the size of that ring in order to correctly fit the band to her finger.
This is especially important if one is purchasing the wedding band from an online retailer and is unable to have the ring re-sized. If one is purchasing the ring in-store there is also the option of having the jeweler size her finger to ensure that the ring is the correct size.
One also must consider the width of the wedding band that one is purchasing. The wedding band should be similar in size to the engagement ring or very slightly wider to show prominence. This can be a tricky task as everyone's fingers are different and some may not have the space needed on the ring finger for a wider wedding band.
Popular Types of Wedding Bands
Every wedding band is unique, but there are some styles that are becoming more and more popular to pair with one's engagement ring. It depends on one's personality when deciding what ring will look best with one's engagement ring.
Eternity Bands
These are a very popular selection among brides today because of their glitz and glamor. An eternity band is a wedding band that has diamonds that encompass the entire band, and therefore, go on for "eternity." This type of band is supposed to symbolize the connection of the couple and that their love will last for all eternity.
It is a beautiful sentiment that also some sparkle to the wedding set. These types of bands can match almost any type of engagement ring, whether the ring is a solitaire center stone or pavé-set split shank setting.
Curved Wedding Bands
Some engagement rings would be better enhanced by having a ring that curves around the center stone rather than setting next to it. The curve would sit nicely against the center stone making the diamond stand out from the rest of the setting.
This type of wedding band works best with curved or elongated shaped stones, such as a cushion, marquis, or round center stones. This type of wedding band also looks great with both prong and bezel-set diamonds. There are many different types of curves that will accentuate the beauty of any engagement ring and provide a unique look.
Antique Wedding Bands
The antique look of wedding bands has been growing more popular. This look includes beautifully engraved designs on the bands that make the wedding band stand out and complement the engagement ring well.
This style is very romantic and personalized to one's taste. This design goes best with engagement ring settings that do not have too many embellishments. This way, the engagement ring will be suited with a design that does not take away from its original beauty.
Two Toned Wedding Bands
Many people prefer to include two different types of metals, such as both yellow and white gold, in to their wedding bands. The bond between the two metals symbolizes the eternal bond between husband and wife.
When looking at these types of rings, one should choose a ring that is mostly the same metal of the engagement ring and accented by a different metal. This way, the wedding band complements the engagement ring without overpowering it. These rings are a great choice for those who have either antique-style or two toned engagement ring settings.
If one is following wedding tradition, one must remember that the wedding band is placed underneath the engagement ring on their ring finger. This is because it is placed closest to one's heart. As one learns with the purchase of the engagement ring, it is placed on the ring finger because it is the only finger that has a direct artery that leads directly to the heart.
Traditional Wedding Bands
These traditions have transpired into the reality of the commitment that one is making to another on their wedding day. A woman's wedding band is a special symbol of that same commitment, so the selection of the ring should be decided on carefully.
Overall, this is a ring that a bride will be wearing for a very long time and it needs to meet all of the specifications, needs, and wants of the person who will be wearing it. Choosing a wedding ring is an important decision in the wedding planning process.
It should be a ring that the bride will be comfortable wearing and that is special to her. With so many choices, finding the perfect wedding ring to complement her engagement ring setting will be a fun and easy decision for the couple. Once married, the bride will be reminded every day of the celebration of their love and happiness by looking at her beautiful wedding band.