To understand what a micro pave engagement ring is, you first need to understand what a pave setting engagement ring is. There are certain pros and cons associated with choosing a ring with a micro design, which is what micro pave engagement rings are known for. Without counting the center stone of the ring, micro pave engagement rings rarely include more than three quarters of a carat of any stone.
A pave setting engagement ring presents a unique alternative to the usual multi-stone bridal sets that many brides are familiar with. Pave settings allow more light into each separate stone due to each stone being held individually without any metal rim. Settings that feature a small metal rim that secure the stones in a line and are set into the ring itself are known as Channel settings.
Understanding Micro Pave Rings
In a case where diamonds are the stones being used for the engagement ring, the diamonds will be encrusted along the surface of the ring using a pave setting and provide the illusion of a solid diamond surface. A pave setting simply maximizes the appearance of the diamonds, while the appearance of the metal is minimized by using only minute prongs or tiny beads to hold the stones in place.
A micro pave engagement ring is similar to a regular pave setting engagement ring, except it uses much smaller stones and more of them. The blending of these smaller stones presents a much smoother finish and an intricate design that has been known to be extremely extravagant. Like a regular pave setting engagement ring, the stones are accentuated rather than the band, but the use of smaller stones provides a more striking appearance.
Why Choose A Micro Pave Engagement Ring?
There are a few reasons why people consider a micro pave engagement ring over bolder, more traditional pave settings. First of all, the use of smaller stones provides a much smoother surface than what you would find on a normal pave setting. It also presents the ring in a way that the metal is hardly noticeable.
Since smaller stones are able to be pieced together more easily, less metal will be seen through the crust of diamonds that are on the ring. Another reason why someone might prefer a micro pave setting is because of the choice of designs that are available. Since the stones are very minute in size, they are able to be put together to form a variety of designs that could not be accomplished using larger stones.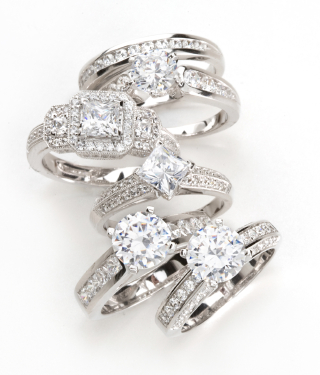 Why Wouldn't Someone Choose A Micro Pave Engagement Ring?
One reason a bride-to-be may consider another type of engagement ring is due to the overall durability of the ring.
Since the stones are smaller and there are more of them, over time stones could fall out of the setting.
This is something that doesn't occur too often though, and something that is easily fixed as well.
These rings also provide the bride with a ring that glitters. Those who don't want a ring thats' glitter overpowers its band may prefer a different setting. A micro pave engagement ring can also give an unbalanced look to the band, especially in the event that their are diamond accents surrounding the center stone.
Cost Comparison
To come up with a solid number as far as how much a micro pave engagement ring can cost is tough because it all depends on the number of stones that will be included in the ring. On the low side you are probably looking at somewhere around 800 dollars, but there are also rings that can cost $6000 or more.
What you need to keep in mind when comparing these kinds of rings is that while smaller stones may cost less, you are also going to need more to make up the ring. This can add up and become more expensive than having a ring with larger stones, but can also present a beautiful alternative for those who can only afford a small amount of small diamonds.
Keep in mind that the cost of the diamonds can also be lessened by using cubic zirconia or another less expensive artificial accent. Another thing to consider is that the making of the ring may be more expensive as well due to the labor involved in preparing an intricately designed ring.
Where To Find One
Micro pave engagement rings can be purchased online or at your local jewelry shop. There are online jewelry shops that offer a wide variety of micro pave engagement rings made by a multitude of manufacturers.
You can find a wide range of pricing on these engagement rings and merchants that will offer free shipping as well as excellent return policies. Visiting a local jeweler will give you the advantage of knowing the ring will be custom made to your liking, but may cost a bit more than finding a similar ring online. Some of the most well known companies that produce micro pave engagement rings are Ross-Simons, Blue Nile, Tiffany's, and James Allen.
Micro Pave Engagement Ring Tips
There is much more to getting the most out of the micro pave engagement ring you choose than just choosing the right diamonds. Here are a couple of things to keep in mind when choosing a micro pave engagement ring.
Discuss warranty with your dealer
This is important no matter where you purchase your ring from. You will want to be sure that should your ring need stones replaced or repaired that you will not have to pay an absurd amount of money to have the ring repaired. Many jewelers offer warranties for a small fee.
Color Consistency
Be sure that the diamonds you have chosen are consistent in color along the entire surface of your ring. Diamonds that differ in color will stand out, giving the ring an inconsistent look.
Caring For Your Ring
A micro pave engagement ring should always be taken off prior to any activity that could result in the stones getting dislodge from the ring. Things like swimming and doing chores around the house could have a negative impact on your engagement ring.
Inspecting The Stones
Be sure that prior to accepting the ring that no stones are jutting out from the ring. The beauty of a micro pave engagement ring is the uniform style that is presented by the ring. This can be upset if one of the stones is sticking our farther than the rest. Inspecting the stones regularly after the ring has been purchased will also make you aware of stones that may become loose, giving you the opportunity to have the ring repaired prior to losing a stone.
Getting The Best Deal
Since the sizing of the ring depends on the size of the finger it is going on, it is probably best to deal with a local jeweler, at least to get the ball rolling. Finding out the proper ring size will be the starting point to getting a good deal. Next, you will need to come up with a design and know what kind of stones will be included in the design.
This can be something custom made or something that you viewed somewhere and fell in love with. Now that you know the size and the design that you are looking for, you can be prepared to do some comparison shopping to get the best deal.
Don't jump the gun and automatically place an order with the first jeweler you visit, but you should at least walk away with pricing on the piece you are interested in. You may find that you can find a similar design and ring size online through a company that will also offer a warranty and free shipping. You may also find that the cheapest and most convenient alternative for the ring you want is the second local jeweler you had a chance to visit.
Get the Right Ring at the Right Price
Keep in mind that the cheapest choice may not always present the best deal. If you find that your local jeweler is only charging a hundred dollars more to make a ring that you will last for years while the one you found online may present durability issues, then spending a little more will be worth it.
Price may be important, but it is not the only factor in considering what might present the best deal. Having a ring that meets the specific qualities you prefer and is made by a jeweler that is known for their quality products, as well as having the protection of a warranty, are all things that can be a factor in getting the best deal for the micro pave engagement ring you seek.