The choice of wedding rings will be a crucial part of many weddings as this will symbolise the vows made between the couple for eternal love and fidelity. Wedding rings are one of the few items of jewelry that are worn all day every day, so it is extremely beneficial to make you choose the right wedding ring for you.
If you are interested in Scottish history, or have roots in this ancient country, then you may wish to think about buying a Scottish wedding ring.
Scotland has a proud Celtic history and elements of this culture still run through modern-day life. Jewelry was a hugely important to the Celts. They were known for their skills, at working gold and other precious metals. Celtic artwork was highly symbolic. As a result, many powerful patterns and motifs were woven into jewelry designs. This gave each piece a keen sense of meaning.
One of the reasons why Scottish wedding rings remain so popular today is that the symbols used to decorate the pieces represent the ideals of eternal love and honor. Many people still believe in these ideals today. Many Celtic patterns are timeless. Some have evolved, over the years, to create decidedly contemporary designs. These are ideal for those people who want a modern wedding ring that also integrates ancient traditions.
Popular Celtic Ring Metals
Scottish Wedding rings are made from a wide range of different precious and semi-precious metals including the following:
Yellow and White Gold – Gold is still the most popular metal for Scottish wedding bands as this combines purity and durability. Gold is also easy to work into patterns and shapes and so is the ideal medium for intricate Celtic designs.
Some rose gold, Scottish wedding rings may be available. However, this type of gold has become less popular, in recent years. Yellow and white gold are more commonly used in the creation of Scottish wedding rings.
Silver – this is a popular choice for Celtic jewelry but is less popular for wedding rings as the purer forms of silver can mark easily.
Platinum – this is the most expensive precious metal used in Celtic ring making and is also the most durable. However, is will most likely be out of many people's price range and can be frightfully expensive in terms of alterations.
Titanium – this metal is growing popular for all kinds of modern wedding rings, especially in men's designs as it provides a solid, contemporary metal effect. Titanium is a cost effective choice for wedding rings but cannot be re-sized or altered.
Celtic Ring Designs
The Celts believed that all life was connected, from the trees through to humans. This is why many Celtic designs are based on images from nature.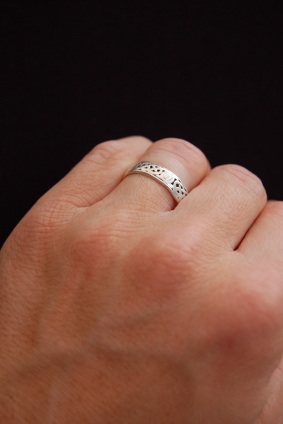 These symbols are used to represent immensely powerful ideas about life. Celtic art also featured geometric designs in a wide range of intricate patterns.
Although most of the true meanings behind Celtic images have been lost over the years, experts have been able to interpret many of the individual symbols.
This has been achieved using detailed illuminated manuscripts compiled by monks during the 6th and 7th centuries.
There are several key designs that were commonly used in Celtic jewelry. These included Celtic spirals, which represented many aspects of life including the inner and outer consciousness.
For wedding rings, the Eternity Knot pattern is immensely popular and is also known as the Lover's Knot. This shows two unbroken loops that are inseparable and interlinked.
This knot symbolizes eternal love, unity and fidelity, which are the ideal symbols for a marriage. A popular ring in Celtic culture was also the Claddagh Ring. This was a traditional Irish ring given as a token of love. It originated in the village of Claddagh, just outside Galway. These rings have been popular in Scotland for centuries and have distinctive design features. The three main symbols show two hands clasping a heart, surmounted by a crown. This symbolizes love, friendship, and loyalty.
Where to Buy Scottish Wedding Rings
Scottish wedding rings are hugely popular and so you should be able to find examples of Celtic designs from most leading jewelers. If you are interested in buying a Scottish wedding ring, you will be able to find designs, in a number of different precious and semi-precious metals.
Because they are popular choices, there should be options available, to suit all budgets. Scottish wedding rings compare well in price against traditional basic and decorative wedding bands.
Buying Online
One of the best places to find a fantastic range of authentic Scottish wedding rings is the Internet. There are many websites that sell a wide range of Celtic and Scottish jewelry. Many of these pieces are produced in Scotland and can be shipped anywhere in the world. You can get some highly competitive prices on wedding rings from online stores. You could save as much as 40% off of standard retail prices. When seasonal sales appear, larger discounts are possible.
Love2have is one of the most popular Celtic wedding ring brands in the world. This website sells a vast number of different gold, silver and platinum Celtic inspired rings. Love2have will ship items anywhere in the world and offer ring sizes in both European and US measurements to make it easy to pick the right size. This website offers a superb choice of Claddagh Scottish wedding rings.
A Traditional Amethyst Claddagh Ring is available in a choice of yellow gold, rose gold and platinum. This ring retails from $320 and is available in a range of sizes. If your budget is a bit tighter, then you could choose a Silver Ancient Celtic Language Ring which retails from $246. This court shaped ring features engravings from the Celtic 'Tree Language'. The website provides a list of the symbols so that you can choose your own meaningful engravings.
Scotsclan
Another website Scotsclan also provides traditional Scottish wedding rings which can be shipped anywhere in the world. This includes a lovely example of a Celtic Love Knot Gold Ring (WH-R071) which is available in 14k, 18k white and rose gold and also sliver. It is available in a number of sizes and retails for around $228.95 (without VAT). You can also choose to have a small diamond set in this Love Knot Ring.
Online Auctions
Online auction websites are also a terrific place to begin looking for both new and used Celtic gold wedding rings. You will need to be extremely careful about buying from private sellers as you will not be able to guarantee the quality. You must read the auction description and view the photos extremely carefully. Online auction sites do offer some guarantees for buyers. However, in most cases, you will not be able to get a refund, if the item is 'as advertised'. It would be your fault, if you did not bother to read the information properly.
Make sure you request photos of the hallmark to check the authenticity of the ring in terms of its karat and origins. Hallmarks are crucial, as they show that the ring has been independently verified that it conforms to standards of purity. This will validate the price you are being asked to pay.
Remember, second hand gold and white gold jewelry are hugely popular, at the moment. There is a high demand for quality vintage Celtic wedding rings. Actually, you may be able to get a wedding ring much cheaper, in brand new condition, from an online or offline jewelry store.
Choosing the Right Size
Size is critical for wedding rings as most people wear these items of jewelry permanently, so they do need to be comfortable. Your finger size can change slightly due to factors such as the temperature and physical activity. This is why it is necessary to get some professional advice on which ring size to buy.
A professional jewelry fitting service will be able to find the right size for you that will take into account variations in finger size. This will help you to buy a ring that will not be too tight or too loose, but will fit comfortably and adapt to slight changes in your finger size.
Ring Selection
On average, most people wear a ring that is one or two sizes bigger than their standard size. This will mean that the ring is not so large it can slip off and also it is not so small that it will feel tight and uncomfortable. Once you know the right ring size for you buying online will be easy. You will simply be able to select the right size option from the chart provided.
Many online stores will also allow you to send rings back and request a different size within a certain time frame (typically 9 to 15 days after purchase). Make sure you do not wear the ring and scratch it though if you intend to send it back. Even tiny marks will be classed as 'wear' and this will make your ring invalid for return. This is particularly salient with high grade silver jewelry which can mark remarkably easily.
Celtic wedding rings are an excellent choice as the meaningful patterns and symbols included in the ring design can help you to express your own personal ideals and beliefs about marriage.