Choosing the perfect engagement ring is an important task. There are so many factors to consider, including the price and style. For anyone who values elegance and tradition, a vintage style engagement ring is a definite possibility. Be sure to consider her tastes and lifestyle when choosing a ring.
If she is an avid tennis player, for instance, an enormous, clunky ring may not be the best choice for her. A tiny, delicate ring may not be the perfect plan for a very tall woman. Look at her favorite jewelry and take note of the style. Fortunately, if she loves tradition or is fascinated with the past, there are vintage rings available in all shapes and sizes.
Where to Find Vintage Engagement Rings
The term "vintage" can mean several things. Victorian and Edwardian styles are considered Vintage, as are retro moderne, art deco, art nouveau, and mid-century styles. When choosing a "vintage" ring, remember that "estate jewelry" is not necessarily vintage. Estate jewelry may well be antique or vintage, but it can also consist of rings that are only a few years old.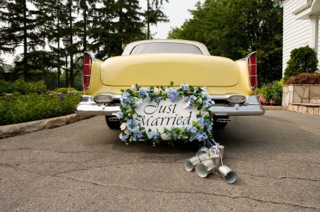 One can search estate jewelers, antique shops, and websites for an authentic vintage engagement ring, or one can purchase a reproduction of a vintage style.
Either way, an engagement ring is cherished forever, so it is worth some time and effort to find that perfect ring.
Prices
Of course, it is important to consider the price when choosing a ring. Fortunately, there is a wide range of prices available for those in love with the traditions of the past. A vintage engagement ring can cost as little as $150 for a tiny, retro-modern style, single sapphire engagement ring, or more than $7000 for a large diamond and sapphire ring. Obviously, the price can go as high as one can afford.
Consumers can search the internet for rings or visit local estate jewelers or jewelry stores. Smaller local jewelers and estate jewelers are most likely to have vintage rings. There are also a number of online jewelers. Buying online is the most cost-effective, with the major drawback being that one cannot actually see the ring before purchasing. Faycullen.com and marleneharriscol.com are both online vendors for vintage jewelry and vintage reproductions.
Be sure to research any online vendor before purchasing. eBay is another possibility, but make sure that the seller is willing to set up an escrow account for the payment until the ring can be appraised. Be sure to clarify whether the ring is "vintage" or "vintage style." Vintage style rings are reproductions of particular styles, while vintage rings are actually old engagement rings.
Sizing
A vintage ring will probably need to be sized. This is no problem if the ring is not going to be a surprise. Just go to a jeweler and measure the appropriate finger. Alternately, get a string or strip of paper and wrap it around the finger exactly. Then measure the strip and use an online ring sizer to find the right fit.
If "popping the question" is supposed to be a surprise, however, things become more tricky. An existing ring can be measured and used to find the right size. Remember that most rings are worn on the right ring-finger. If she is right handed, then it will be ever-so-slightly larger than the finger on her left hand.
A left-handed woman's ring finger may be a little larger than that on her right hand. So take that into account. She'll want to wear it right away!
Vintage Styles
Victorian
Victorian engagement rings were often large and impressive. Like most engagement rings, they were characterized by a large stone in the center. The rings often incorporated a motif, such as intertwining hearts or vines. Serpents were popular due to the rings worn by Queen Victoria and her beloved Prince Alfred.
Until the late Victorian era, the primary stones were not generally diamonds. Instead, large colored stones were favored, sometimes surrounded by smaller stones. A large pearl, topaz, or sapphire set in yellow or rose gold often adorned the finger of a bride-to-be. Late in the era, diamonds increased in popularity with the discovery of vast diamond mines in South Africa. It was then that the ever-popular diamond center stone became prominent.
Edwardian
After the death of Queen Victoria, her son Edward ascended the throne of England. White gold and platinum gained in popularity, while the diamond continued to be the stone of choice. Yellow gold was relatively rare in Edwardian engagement rings. Unlike the heavy stones and large settings of the Victorian Era, the rings of the Edwardian Period tended to be more feminine and delicate.
Lacy filigree and smaller settings became all the rage. Images of birds, vines, or flowers often appeared within the filigree. The social status of the wearer was often apparent in the intricacy of the ring design. Overall, the Edwardian designs were romantic and elegant. Edwardian style remained popular through 1920, after which the Art Deco style became prominent.
Art Deco and Art Nouveau
Art Deco engagement rings emphasized design and geometry over romance. Typically set in platinum, the rings often consisted of a larger center stone surrounded by smaller stones arranged in a geometric pattern. As in the rest of the Art Deco movement, geometry, bold lines, and patterns were valued.
Jewelers experimented with new cutting styles and created bold, stylish rings, often accented with onyx or sapphires. Art Nouveau style, from the same period, incorporated nature into the designs and tended to be asymmetrical.
Retro and Mid-Century Styles
After 1935, depression and war both affected the design of engagement rings. Platinum was used largely for the war effort. Gold became popular again, and it was not uncommon to see the different gold hues of yellow, white, and gold, on the same ring. Large rings with feminine designs became common. Women were influenced by Hollywood glitz, and large, more assertive rings gained in popularity.
Asymmetry was fashionable in mid-century jewelry, and the so-called "cocktail rings" became ubiquitous, although not necessarily as engagement rings. Diamonds were cut in newer shapes, such as the marquise, heart-shaped, or the pear-shaped cut. The engagement solitaire became more prevalent, set in yellow or white gold. Designers paid more attention to the cut of the diamond itself than ever before. These rings remained popular throughout the Twentieth Century.
There are so many choices available for the modern consumer. Vintage or vintage-style rings express an appreciation for tradition and the romance of the past. These rings can be found in all shapes, sizes, and prices. The choice of engagement ring is a crucial part of the romance in the relationship, so research carefully, pay attention to her tastes and preferences, and take the time to find the right ring. It will be worth it.