An engagement is one of the happiest times in a couple's relationship and the prelude to a wedding. It is a very special moment and it is marked by the gesture of giving an engagement ring to the beloved, as a promise of love. It is not only romantic, but also a moment in which the couple can be as creative as they want.
Traditionally, a man used to surprise his girlfriend with a ring that he chose and ask her to marry him. These days, it is very common that the couple goes together to a jewelry store or shop online for an engagement ring that they both agree with, and that the woman loves.
Custom Made Rings
Some couples take this step a bit further and prefer a custom-made engagement ring. Custom-made engagement rings are becoming very popular. With the introduction of the internet, it is easier than ever to email a design and have it made.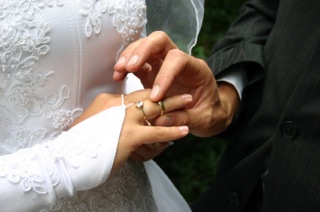 Prices have also come down a bit, due to competition and the many jewelers that do custom-made work.
However, custom-made engagement rings are still more expensive, depending on the type of work, and materials involved.
Sometimes, a man will go with his gut feeling and order a custom-made engagement ring to surprise his girlfriend, choosing to go with a theme that is meaningful to both of them. This is a happy medium between tradition and the new order of doing things.
Custom Work Preferences
Custom made work special designs representing the couple's preferences and memories together, special engravings and motifs, religious affiliations, family crest or coat of arms, birthstones, favorite characters, or places, and anything that will mean something to the couple.
Sometimes, it is not meaningful issues, but pure design and the satisfaction of creating the piece together into a piece of paper, and have it made into an engagement ring by an experienced jeweler. The couple can have as much fun as they want in this process, and the creation process can go as far as their imagination reaches.
However, the couple must keep in mind that some materials are more expensive than others are, or easy to work with than others – if budget is a factor. This will influence price.
Issues That Influence Pricing
The process of making a handmade ring is a very detailed and extensive one that requires many steps and skill masters with special tools. The piece will go from raw gold to the process of making the collet (where the stones will be placed), building the shank, filing the piece, hallmarking the piece, setting the stones, engraving the piece, polishing, and finally hand finishing to achieve the right finish. All stages are very time consuming and require precision.
The type of design will influence price. The more intricate, the more work goes into it, and therefore, the more expensive it gets. If the engagement ring is of a simple premade design that will be added a few details such as precious color stones or engravings, then this may be a more cost efficient option. If the jewelry maker is going to create the entire piece according to the couple's specs, this is where pricing goes up, as the entire process is going to be created starting with a raw piece.
Material Costs
The material is also an issue in pricing. The type of gold that is going to be used and the Karat will set the price, as well as the market conditions for gold in the current economy. The more pure gold it is used (24K) the more expensive the piece becomes. Price will go down if the couple chooses less gold in the piece (22K, 18K, 14K, and 10K in the USA) (down to 9K in the UK). Platinum is also a popular choice for couples.
If a couple chooses a material other than gold, cost will go down, but sometimes, it may be harder to find a jeweler that will work on other materials such as sterling silver, titanium, copper, metal, or any other. In this case, price may become an issue as well.
The amount and type of stones that the engagement ring will include will affect price as well. The clarity, cut, carat, and color of the diamonds will have to be considered, as well as any other precious stones that the engagement ring will have.
Custom Work
The amount of intricate work and design is another factor that will influence price. The more work done to a piece, the more time and skill it takes, and therefore the more expensive it will be. If the couple chooses a special design to be created, which will include having to create details in raw gold, then the ring will become a work of art, and price will go up as well.
Engravings may become an issue depending on how long the characters are and where they are to be located on the piece.
Most couples do not as far as creating an entire design, and they go with a happy medium, opting to choose a mounting and adding stones to it or engravings. This is a more budget friendly option.
Sizing for a Custom Made Engagement Ring
Sizing here will depend on what type of custom work is being made. If the couple is choosing a mounting and then doing some custom work to it, then they will choose the size at that moment. If the bride to be does not know her size, she can visit a local jewelry store and get sized.
This is usually a complimentary service on jewelry stores and is done free. Otherwise, she can go by the size one of her rings is, as long as it is on the engagement finger. However, must care should be taken in this part of the process as once the ring is made, sizing it may become an issue if the ring has very intricate designs or engravings – sometimes a ring will not be able to be sized as the entire design may be disturbed.
Recreating the designed will be very expensive. Pieces that have channel settings must also be sized to a point and by an expert jewelry. Be sure to have to have the correct size to avoid costly issues later.
Where to Buy
These days custom work has become more accessible and more common as far as engagement rings. You can visit a local jeweler that will specialize in custom work, or you can order a custom-made ring thru the internet. With the advances of technology and the ease of emailing designs back and forth, quick internet checkout, and even free shipping services, ordering is easier than ever.
You can even choose some a mounting, stones, and engravings over the internet, for a customized look and place your order. However, make sure that you are clear on what you want and that you are able to convey your design as clear as possible. A word of advice is to choose a reputable company that will stand behind their work.
Ask around to people you know for referrals and make a quick background check with the Better Business Bureau (BBB) for any complaints that may have been filed by other customers. If the company is overseas and in another country, make sure that you research the company very well, before paying for anything.
How to Ensure She Will Love the Custom Made Engagement Ring
In the case that a man wants to surprise his girlfriend with a custom-made ring, he may want to be sure that she will love it, as custom work is costly and may not be returnable – it all depends on the jeweler or company. There are a few things to consider making this step much easier.
First, the thrill of the engagement ring when she receives it is a positive issue, already in his favor. Second, the fact that he put such time and effort in coming up with a custom-made engagement ring is another favorable issue.
Third, if he knows well his girlfriend he will know her likes and dislikes. Choosing a type of gold that she prefers, the shape of diamond or color stone that she loves, and putting the right words on the engraving – especially if they have a meaning for the couple – are all factors that will make for a successful custom ring.
Successfully combining these factors and any other motifs or themes, which may be symbolic in the relationship, is key to ensure that she will love her engagement ring.