When you finally find the girl of your dreams, and you want to spend the rest of your life with her, you will want to give her an engagement ring that she will treasure forever. Show her how special she is by selecting an awesome ring that she will be proud to show off to her family and friends.
An engagement ring is a token of your love that you and your wife can hand down to one of your future grandchildren or great grandchildren along with the story of your meeting, engagement and marriage. Family heirlooms are precious to future generations, and a lovely engagement ring is one of the finest treasures that you can leave to them.
Price ranges of engagement rings
The cost of a diamond is determined by its color, cut, clarity and carat size – the Four C's. Usually, diamonds with the least amount of color are the most valuable, and when a diamond has more clarity there will be less cloudiness, so it will have greater worth.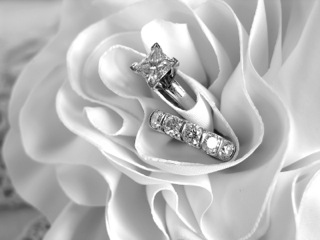 The cut of a diamond determines the way it refracts light and gives it the sparkle, and a master craftsman will sacrifice some of a diamond's weight to get a superior cut.
If a diamond is ASG/GIA certified, its value is greater than it would be without certification.
Many jewelry stores price diamond rings using these guidelines
Up to ¼ carat diamond in a 14 carat gold setting – from $125 to $500
1/3 to ½ carat diamond in an 18 carat gold or platinum setting – from $750 to $1,000
Up to ¾ carat diamond – $1,000 to $2,000 if it is certified
Up to 1 carat diamond in a 14 carat gold setting – $2,000 to $3,500
1 carat high quality diamond in an 18 carat gold or platinum setting – $4,000 or more
Precious jewels appreciate in value over time, so keep in mind that buying a ring of superior quality now will ensure that your investment will increase in worth as the years go by.
You can purchase an entry level 1 carat Harry Winston engagement ring for about $15,000, but most of his better quality rings range from $25,000 to $50,000 and higher. Harry Winston is known for the excellent quality of his diamonds and the exceptional craftsmanship that goes into each ring.
If it is necessary for you to be more conservative in your choice of rings because of the cost, you can shop for lower priced rings and find many different options that will surely be satisfactory.
A diamond engagement ring from a jewelry store averages around $3500 to $4000.
Robbins Brothers have engagement rings ranging from $350 to $9720.
Prices at Helzberg Jewelers run from $999 to $2999.
You can find some online sites with prices starting at around 250.
Where to buy engagement rings
There are more options today when it comes to buying engagement rings than there were in the past.
You can do the traditional thing, and buy the ring at a jewelry store.
If your girlfriend is not sentimental or superstitious, you may find a second hand ring on e-bay, at a pawnshop, coin store, antique store or from a classified ad in your newspaper.
You can shop online from the comfort of your home.
Most of the popular brands have Internet sites for your shopping convenience.
Amazon, Overstock, Blue Nile and Ice Store are a few other sites to investigate.
Some Popular Brands
Tips on sizing
You can find several ring size charts online, and following is a partial list of them.
When you print an online ring sizer, your printer must be set to 100%, and your printer's page setup must not have a reduced print size so that your measurement will be accurate.
To use the measurement table that converts the finger's circumference to a ring size, measure the circumference of your sweetheart's ring finger with string, wire or a thin piece of paper.
Slide the string or paper over her knuckle to be sure that she can put it on and take it off easily, and use the ring size chart to determine the correct size for her ring. If she has a ring that fits well, you can use it as a guide by putting it on a tapered item like a candle or carrot. Make a mark at the point where the ring stops, and measure the circumference there.
Finalizing the Measurements
For the chart with graduated circles of different ring sizes, use a well-fitting ring and place it over the circles until you find one that matches the inner circumference of the ring.
If the engagement is to be a surprise, you will have to be creative to get a correct finger measurement, and using an existing ring would probably be the easiest way to do that. When you use one of her rings for your measurement, make sure that she wears it on the finger on which she will wear her engagement ring.
If you are not planning to surprise her, you can take her to a jeweler to determine the correct size for her ring and be assured of an accurate measurement.
If you measure her finger instead of using one of her rings, take the measurement late in the day at normal room temperature, because fingers vary in size with time and temperature differences.
If she retains water during part of the month, do not take the measurement during those days, or the ring may be too large most of the time.
If she has large knuckles, make sure the ring will fit comfortably over her knuckle.
Use millimeters for your measurement for greater accuracy.
Tips on saving money
Buy a high quality diamond, but use a less expensive band.
Use several smaller diamonds instead of one large one.
Purchase a cubic zirconium stone instead of a diamond.
Negotiate the price with the retailer. There is usually a large mark up over the retailer's actual cost, so he will have some leeway to lower the price in order to make the sale.
Select a diamond with less than perfect color and clarity. You probably will not be able to detect slight imperfections with the naked eye, and the cost will be significantly lower.
A diamond will look larger if smaller inexpensive diamonds surround it.
Getting the best deal
Select a good reputable dealer. Check with the Better Business Bureau to find out about any complaints against the dealer that have not been resolved.
Do some comparison shopping online or in person.
Educate yourself about diamonds and craftsmanship in order to make a wise decision.
If you decide on an expensive high quality diamond ring, get it appraised to ensure that it matches its certificate.
How to Ensure She Will Like It
You will both be disappointed if you do your best to select an engagement ring for your fiancé, but she does not like it. If she feels that a different style of ring would be more appropriate for her or that she would be more comfortable with another type of ring, you will see the disappointment on her face. Of course, you want her to be happy with your engagement ring, so try to discover what will please her before you make your purchase.
Pay attention to what kind of jewelry she seems to favor. Does she like large showy bracelets and earrings, or does she seem to prefer small delicate items?
Does she like to wear rings with large sets, or does she complain about them making it hard to wear gloves or shake hands?
Do her preferences run toward the unusual, or are plain things more to her liking?
Does she prefer modern styles, or is she enchanted with old-fashioned charm?
Is she extravagant or practical?
Look at jewelry together. If you plan to surprise her with a ring, you will have to be subtle about this.
Does she like surprises, or would she rather forego the surprise and be included in the decision-making?
If the engagement will not be a surprise, explain what amount you are able to spend for the purchase, and let her help you choose the perfect ring.
If you make the choice without her assistance, make sure that you can exchange the ring for a different one if she is unhappy with your selection for any reason.
Soon after you give her the ring, explain to her that it can be exchanged and the time limit involved.
Conclusion
Mark that important occasion with a special engagement ring that reflects the unique personality and style of the one you love. She will be wearing the ring every day for many years, so make a special effort to select an engagement ring that suits her. Spend some time and do some research before you make your decision, so that you will also make a knowledgeable selection and get a good value for your investment. When you make a wise choice, you will have an engagement ring with good monetary value as well as with wonderful sentimental value.
When you select a Harry Winston engagement ring, you will have a piece of jewelry with the superior quality and fine craftsmanship that has given the company its outstanding reputation. You will be making a wise long-term investment that will increase in value through the years, and your fiancé will surely be pleased with your excellent taste.