The exciting three-stone engagement ring is typically comprised of a center-mounted stone of a larger size and greater height than two flanking stones positioned on the sides, or "shoulders" of the ring shank.
The center stone is traditionally a diamond cut into a round shape, but may be rectangular, square or oval. The two flanking stones can be round, rectangular, square, oval, triangular, heart, cat's-eye or teardrop-shaped and of the same or a different type than the main stone.
How To Choose A Ring She'll Love
What style of three-stone engagement ring to choose? Different ring styles will suit women of different personalities. By asking questions, getting feedback and listening to the special lady's perspective of the type of rings she likes, choosing a ring she'll fall in love with should be easy.
Making a choice from the vast selection of rings available is difficult enough. Information about her tastes always translates into easier decision-making when the time comes to purchase.The simplest course is to take her window shopping. Find a mall with retail diamond jewelry on display, and devise a "chance" moment to let her eye the items there.
Most women will let it be known what style of ring captures her eye and imagination. Don't give away secret intentions, though. Women delight in the surprise of a formal proposal, complete with the gift of a tasteful, thoughtfully-chosen and attention-grabbing ring.
Types of Women & the Rings They Like
The Romantic loves flowers and soft fabrics, summer days and diffused, curvy ring designs. Stay away from high central mounts and opt for lower, fluid designs, perhaps with the ring settings made of yellow or rose gold channels filled with small diamonds.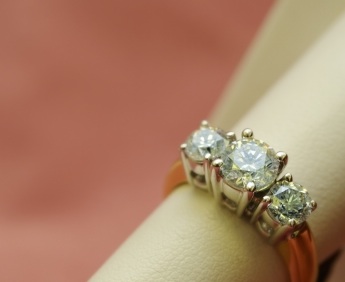 The Artisan is attracted to unique shapes, colors and styles.
She would be delighted with bold, sweeping lines as well as colored diamonds or semi-precious stones.
The Trendsetter tends to like large stones set in chunky, polished rings and airy settings showcasing three large matching diamonds of equal size.
The Historian is often drawn to the use of multiple metals, with artfully colorful small-stone settings and flowery, antique-looking filigreed metalwork.
Tips on Ring Sizing
Besides selecting the perfect ring to suit her tastes and personality, it is likewise important to select an attractive style to flatter her hand and finger shaping.
The rule of thumb is to choose a thinner band and an elongated center stone such as an oval or Marquis cut for women who have shorter, wider fingers. Women with long, slender fingers can wear wider bands set with chunkier stones and rings with fussier embellishments.
Don't know what size she wears? Ask her to let you look at the "details" of one of her favorite rings that fits her well. Rather than asking her what size it is, casually slip it over one of your own fingers. Just remember to use that finger for ordering the proper size when visiting the jeweler.
How Much Will a Three Stone Engagement Ring Cost?
Multiple factors effect the cost of a ring:
Metals
The choice of metals used in a ring should be considered with an eye toward beauty, color preference, metal strength and longevity.
Choices are silver, white gold, yellow gold, platinum, titanium, or a combination of precious metals, such as Palladium
Purity of the metal, measured in karats – 10K has the most alloys added for durability, with 14K, 18K, and 24K containing successively less alloys and purer metal content for higher prices
Stones
Stone choices should reflect her personal tastes, not yours. Stones are priced by:
Quality of the stone cut which helps reflect light
Clarity of the stone or lack of imperfections
Rarity of the stone color
Size of a stone measured in carats, called carat weight (CW)
Pricing is generally by total weight (TW) or the sum of all carat weights of individual stones in the ring
Stone Options
In addition to traditional diamonds, a limitless number of combinations exist in three-stone engagement rings that also effect price. Stone-enhanced settings made of diamonds will raise the price of the ring, while pairing traditional diamonds with semi-precious stones such as sapphires, rubies, aquamarine, Citroen, or amethyst can lower the cost.
Choosing artificial diamonds or man-made semi-precious stones will significantly lower the price tag for those with a modest budget, as will metals with higher alloy content.
Settings
A ring is only as good as the method the designer uses to attach the stones to the ring. More than one hapless bride has discovered missing stones, when settings failed to secure stones properly.
Many retail jewelers offer protection guarantees against stone loss, and prove to be well worth the investment in peace of mind. When choosing stone mounts, they should not be sharp, snag on clothing or stand too tall above the hand.
What's the Best Source for 3 Stone Engagement Rings?
One of many available sources is well-known ARTHUR Jewelers, who carries a wide variety of major jewelry designer collections as well as offering both on-line and store front retail settings. ARTHUR offers a number of financing options and the ability to design your own ring. Available collections include the following designer product lines:
Art Carved 3-stone engagement rings are available in traditional styles, perfect for the Traditional girl with simple tastes who would be pleased with a classic, quality ring. Their three-stone Palladium rings run from $2250 for a .38 TW diamond ring to $3690 for .75 TW.
Scott Kay Jewelry Designs
Scott Kay offers rings that are simple, light and delicate. His designs are a good fit for women with small hands and a distinctly feminine side who can appreciate classic styling and good looks. Scott Kay three-stone engagement ring designs hover in the $2000 to $3000 range.
Tacori
For the Romantic girl, TACORI offers unique setting styles, incorporating tulip-like blossoms or raised crowns of diamonds to secure the main stone. They offer a three-stone diamond ring with sapphires set in the shoulders for around $4000.
Mark Silverstein
Mark Silverstein brings unique twisted metal bands that capture the light together with beautiful stones in a variety of settings. He also offers a main diamond design teamed up with sapphires on the shoulders, tucked between two channel-set diamond arches for $4680.
UNEEK Jewelry Design
UNEEK Designer provides a sharp two-tone white and rose gold 18K three-stone diamond engagement ring with one large and two small diamonds circled with smaller channel-set stones. A total weight of 1.89, this beautiful ring is sure to impress the discriminating lady for a mere $9995.
UNEEK also sports a Platinum and 18K yellow gold three-stone engagement ring totaling .71 CT for $8432. The main stone is set in gleaming yellow gold contrasted with the bright glitter of a Platinum shank and shoulder settings, offering a beautifully elegant, traditional ring with a distinct, modern punch.
Verragio Jewelry
Verragio jewelry designs are also available through ARTHUR Jewelers, or can be accessed via on-line brochures and Verragio storefront locations. Touting the worlds most comfortable rings, Verragio adds unique carving and beading into the inner surfaces of the shank to keep the ring upright and discourage spinning.
An important factor for rings with cluster settings that tend to be top-heavy, any design that provides a method to overcome the tendency of rings to turn toward the palm is a definite plus.
Verragio uses their signature Lumino settings in the PARADISIO collection of three-stone engagement rings. The Lumino setting allows for 75% more light to be captured by the stones, resulting in a higher degree of sparkle and fire than regular mounts can offer.
High reflection and comfortable fit make a Verragio ring a delight for the woman who likes anything from bold statements to lacy, filigreed settings in a ring whose brilliance can sparkle across a room. Verragio designs range from $1500 to $7000 for settings in 18K gold.
Purchasing an Engagement Ring
Cash is the easiest and cheapest way to make a ring purchase, because there's no interest to pay. You can take your purchase with you the same day, and never worry about bills to pay later. It's also possible to negotiate a discount for paying cash with many retailers — the key is to ask. Saving up for a cash purchase in advance is always the best way to get the best deals.
Using Payment Plans
Lay-away plans usually require no fees or interest charges by simply make payments to the retailer until the purchase price is paid in full. This is generally required before taking actual possession of the ring, however. Jewelers may offer in-house financing. Since interest rates can vary, compare retailers for choosing the best rates and plans.
Personal Bank Loans are another place to turn for a loan, provided a good reputation with your personal banker exists. Minimum loan amounts usually apply. Credit Union Loans typically ask for lower interest rates than commercial banks, though they often require an association membership.
Consumer Credit Lenders, like CitiFinancial and Wells Fargo exist nationwide, offering credit programs that often ask the highest interest rates, adding substantially to the cost of a ring purchase. Most jewelers also accept credit cards.
How Much to Spend on an Engagement Ring?
Plan on investing the equivalent of two months' salary for a proper engagement ring. That equates to one week's pay saved over eight months, or two weeks' pay saved over a period of four months. If you know you want to get married someday, start saving for the lucky lady's engagement ring before you ever meet her. Then you'll be ready for anything when the opportunity with the right girl makes an appearance in your life.