Heart Shaped Diamond Engagement Rings – What you Should Know Before Purchasing
A heart shaped diamond ring can be a bold statement of your undying love for your partner. Though they are becoming increasingly popular, they are still considered to be a unusual display of the shaping options available for the stone. Learning more about the heart shaped diamond will allow you determine whether or not it will be a suitable choice for your special someone.
About the Heart Shape
A diamond resembling the shape of a heart is one of the fancier shapes of the gem. It consists of several cuts in order to create a symmetrical shape.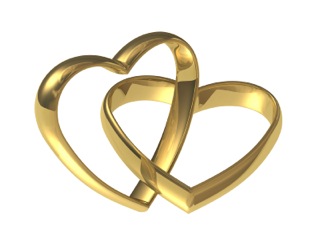 This type of cut involves may convex and concave angles, meaning it can sometime give off an unusual shadow, depending on the quality of the cut.
The heart is made with a minimum of 1/3 carat stone, as a larger surface area is needed to effectively give off the proper shape.
Judging the Quality of a Heart Shaped Diamond
The most common consideration when judging the quality of a diamond that is heart shaped is the shape itself. The two sides of the heart should be symmetrical. Poor quality cuts may look more lopsided or misshapen.
Notice the bottom point, as it should be centered properly to avoid distortion of the shape. It should also come to a sharp point rather than a rounded one. Also, consider the color of the diamond. Lower quality stones will appear mis-colored along the edges.
Popular Styles of Heart Shaped Diamond Engagement Rings
Solitaires
A simple solitaire contained within a prong setting is a popular choice. Inspect the ring for five prongs, as four are needed to hold the stone in place, while an extra is necessary to support to pointed tip at the bottom of the diamond.
A heart shaped diamond with small accent stones placed on either side is another common selection. However, it is important to limit accents to one on each side. Too many will draw attention away from the heart shaped diamond, which is meant to be the most prominent feature of the ring.
Inset Rings
Placing the large heart diamond amongst a cluster of tiny accents that encompass the main stone can help draw attention to the uniqueness of the ring. This inset makes the ring more original, and also makes a much bolder statement than other engagement rings.
Where to Buy the Engagement Ring
The internet offers a variety of jewelry merchants with a wide range of prices. Online is becoming the preferred location to purchase jewelry, as you have access to more styles and selections when surfing the web. There are some jewelry websites that are more popular than others, as they are prominently known for the assistance given to their customers.
Blue Nile features an extensive section on educating a ring buyer prior to them making their purchase. This is especially helpful when you are not able to see the rings in person. Choosing the right design, cut, and stone is taught on Blue Nile's website. Designing an engagement ring from scratch is also available with this company.
Price Options for Heart Shaped Diamond Rings
The price of a heart shaped diamond engagement ring will differ depending on the carat of the diamond, the quality of the cut, and the metal used in the ring. You may choose to get the stone from a wholesale company and have it placed in a setting by a local jeweler. However, it is generally less expensive to get the entire ring from one place. Heart shaped diamond rings that offer a 1/2 to 1 carat diamond with a good cut range in price from $1,000-$2,000. This is typically a bit higher than rings with more traditional shapes.
Is the Heart Shaped Diamond Engagement Ring Right for Her?
Before purchasing this style of engagement ring, it is essential to consider whether this ring is appropriate for your relationship. While there is no doubt that a heart symbolizes true love and a romantic union between two people, some women perceive this shape to be too cliché for them. Being bulkier than many other stone shapes, the heart may be overbearing for a woman with slim fingers.