History & Symbolism
It is believed that the ancient Egyptians were the first people to create and present wedding rings as a symbol of joining a man and woman in the perpetual bonds of matrimony. The circular shape has special significance for the Egyptians. It is endless. One cannot find a beginning or an end to the circle. The hole in the center is equally important as it symbolized the doorway to eternity.
The early rings were made from plants that grew along the banks of the Nile River. These "natural" rings were not durable and eventually the early Romans began to craft rings from metal. Bronze and brass were common metals for early rings. Gold and silver rings gradually came into existence as men decided to show that they trusted their wives with valuable objects.
Over time, jewels, most notably diamonds and other precious jewels were added to the metal bands. Today's rings are a far cry from the original rings and there is much to be considered when purchasing an engagement ring.
How to Ensure She Likes It
An engagement ring has to be perfect – perfect for the woman who will be wearing it. An engagement ring is a woman's showpiece article of jewelry. She will want to dazzle all her friends and family. This is the one piece of jewelry that the woman will wear for a lifetime. It is important that it is something she will love, and love to wear, for years to come.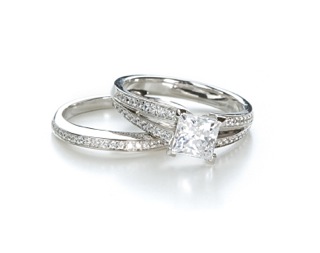 To be certain that the ring meets the bride's desires and expectations, the couple can ring shop together. While the bride-to-be admires the array of rings, the man notes the style, color, setting, and material the woman prefers.
Some couples are comfortable when the woman selects her own engagement ring. If the groom has a particular price range in mind, this is important to share with the woman before they begin shopping. When the element of surprise is not important, this couple shopping technique may prove to be a fun and easy way to ensure that the perfect engagement ring is selected.
When the ring is to be a surprise, some men are required to do a little detective work to determine the woman's preference of style. He may enlist the help of family or friends. However, this is a huge secret to ask someone to keep. The man always runs the risk of having his secret exposed when he asks for help.
Prices
Not surprisingly, the idea of spending two month's salary on an engagement ring began with a jewelry company. As a rule of thumb, a decent diamond engagement ring will cost a minimum of $1,000. Today's grooms are likely to shell out at least $2,500 for a diamond ring.
The financial condition of the groom must be considered before making this important purchase. When buying an engagement ring puts the couple (or groom) in serious debt, it may be wise to consider a less expensive option. The cost of the ring should never equate to how much love is shared, even though she may be tempted to view it as a symbol of how much the man cares for her.
However, it is important to note that this ring is something that she will wear on a daily basis for the rest of her life. She will want to show it off to everyone she sees. It makes sense to spend as much as the man (or couple) can afford, while maintaining enough sensibility to ensure that the couple is not put into excessive debt because of the ring.
How to Save Money
Many consider the engagement ring a necessity, and most women dream of that special ring. It is easy to spend massive amounts of money to purchase the perfect ring, but there are several ways to save money on an engagement ring.
Not only is it cost effective, but some consider the act of presenting an heirloom ring very romantic. Some women are honored to wear a ring that belonged to the groom's mother or grandmother. However, some women are appalled at this idea, so the time to find out how the bride-to-be feels is before presenting the ring.
Frugal grooms may find beautiful rings at consignment shops or pawn shops. Online auctions also regularly offer engagement rings in a variety of styles and prices. These may often be purchased at a fraction of their original cost. The few dollars necessary for resizing may still make this a very attractive option for some couples.
Online Store Options
When only a brand new ring will do, online ring stores offer good values on engagement rings. Since there is no traditional store involved, the cost savings on buildings and salaries can be passed along to the consumer.
Often, savings can be found by purchasing stones and settings separately. Most reputable jewelers can mount the stones into the settings at reasonable costs.
How to Get the Best Deal
Just like car dealers and furniture stores, jewelry stores have huge mark-ups. Savvy buyers can negotiate with the stores. Even so-called sale prices usually provide the buyer a little "wiggle room".
Shop the sales. All chain jewelers routinely offer their engagement rings at sale prices. Rings often go on sale prior to major holidays. Often the same ring can be found at two different jewelers at different prices. It is smart to shop around.
Where to Buy
There are numerous places to purchase an engagement ring. Undoubtedly, the easiest shopping is done at the local mall. Most malls have a number of jewelry stores that provide a nice assortment of rings in a variety of styles, settings, and price ranges.
Independent jewelers not only have a supply of ready-made jewelry, but often can create customized pieces. Online jewelers can be found using any search engine. Estate sales may offer jewelry items.
Popular Brands/Styles
While engagement ring styles seem endless, the three most popular are the princess cut, the six prong diamond solitaire, and the multi-diamond engagement bands. The four-pronged diamond or square shaped princess provides an elegant presentation. The princess cut ring can be found in either yellow or white gold, or platinum. The solitary diamond can be set in either a thin or wide band.
The six prong diamond solitaire is a round diamond supported by six individual prongs. The six prongs are used to draw the eye to the center of the stone.
The number of prongs also guards against the diamond becoming loose and falling out of the setting. As with the princess cut ring, this setting is available in either yellow or white gold, or in platinum.
Multi-Diamond Rings
Multi-diamond engagement rings were very popular in the fifties and sixties, but are beginning to regain some of their former popularity, although usually with fewer diamonds than their predecessors. Consisting of three diamonds, a popular option currently seen in multi-diamond engagement rings is called the "Today, Tomorrow, and Forever Ring." The "Eternity Ring" is a complete band of diamonds or stones. White and yellow gold, as well as platinum, are popular choices for these multi-diamond engagement rings.
Diamonds are widely used in engagement rings, but other precious stones including emeralds, rubies, and sapphires are becoming more common. Clear, brilliant diamonds remain the most popular option, but colored diamonds are beginning to emerge in these settings. It is not unusual to find engagement rings cast with yellow, blue, champagne, or black diamonds. Pave settings are bands that are encrusted with small diamonds. These settings can be breathtaking and offer the wearer a more unique style of engagement ring.
For couples wanting something without diamonds, the Celtic harmony ring is popular. Long-viewed as a symbol of everlasting love, the Celtic love knot is displayed in a gold setting.
Tips on Sizing
For many couples, purchasing a ring is something that they have talked about. Chances are they have shopped together and the woman may have tried on a ring or two. For those couples, the sizing part is easy. Every jewelry store has size indicators. The man can always ask the woman what size she wears.
When the engagement ring is to be a surprise, it is important to have the correct ring size. Nothing could be worse than trying to slip the ring on a finger, only to find that the ring is either too large or so small that it will not fit. There are a couple of tricks that can be employed to determine the correct ring size.
Common Sizing Tips
A common way to obtain the ring size is to take a ring that she already wears, and trace it on paper. It may take some ingenuity, but taking a ring that she now wears and pressing it deeply into a bar of soap will create a clear indication of the ring size.
A much simpler, yet riskier, manner would be for the man to take one of the woman's rings and place it on his ring finger. He must then remember where her ring went on his ring finger. Jewelers can make very reasonable estimates about the size ring a woman wears by using any of these techniques.
Mothers, sisters, and girlfriends usually can be very helpful in providing this information, but it is important that these associates be discrete. When surprise is important, it is wise not to involve many people in the plan.