Vintage brings a certain nostalgia to mind, hearkening back to days when love was lasting and life was simpler. For this reason, it's no surprise that many couple find a distinct appeal to vintage wedding bands and rings. After all, they want their love to carry through the ages, just like these timeless designs have.
There is also often an emotional connection to vintage rings, as the bride may remember her grandmother wearing a certain style, as just one example. Either way, vintage rings are very appealing, but can be difficult to find, especially for a decent price. Vintage rings aren't often found in a regular jewelry store, so if this is your preference, you must be a bit more discerning and patient in order to find the perfect vintage ring for your nuptials.
Where to Find Vintage Rings
The first problem that most people have is how to source a decent selection of vintage wedding bands and rings. Of course, like many major purchases, you only have to find one perfect match, but a greater selection will ensure that you stumble upon the ring that really makes your heart sing. There are many ways to source vintage wedding rings.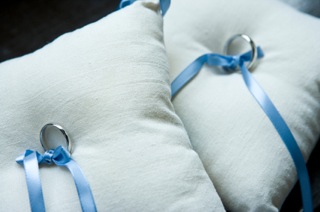 For many people, finding the ring is simple. It is still a distinct tradition to pass on a much-loved ring that has been in the family for generations.
These are truly the vintage rings that have the most meaning attached to them. Of course, if you are the groom of the couple, you need to make sure that your bride is on the same page.
Buying Tips
A wedding ring is a lifetime purchase, so she needs to love the vintage styling as much as you do. While not quite as common as passing on an engagement ring, some families has matched wedding bands that they pass down, making this an excellent choice for both partners. If you have this available, consider yourself lucky. Your main concern will be merely to get the rings properly sized.
If you aren't lucky enough to have ready access to a vintage wedding band or ring, you will have to look at alternative ways to purchase your ring. If you have a photograph or drawing of the ring you are envisioning, this will make your shopping experience easier. Surprisingly, looking at out-of-the-way places, such as pawn shops or estate sales can lead to some excellent bargains in vintage wedding bands and rings.
Most of these venues aren't quite sure what they have, so if you can snag the ring of your dreams, it's likely that you will get an excellent bargain in exchange for having a good eye. Some outlets, such as a pawn shop, may allow you to have the ring appraised, but auctions can be hot and heavy, so be prepared to make your own assessment as to value. If you aren't sure of the authenticity of the ring, designate a budget that accounts for it being a style that you love.
What To Consider When Buying a Vintage Wedding Ring
If it does turn out to be genuine, you will have outdone yourself. If not, you can appreciate the ring at its face value, enjoying the merits of a style and taste that appeal to you. Again, these genuine vintage rings will need to be sized at a qualified jeweler.
Whenever you are looking for antique or vintage wedding bands or engagement rings, there is often a good deal of confusion surrounding the authenticity. While it is fairly easy to find authentic styles, an actual ring that is aged is a bit more difficult.
In many cases, reproductions are listed as vintage or antique rings when, in reality, they are just antique styles. Always read the fine print carefully; it's not possible to ask too many questions. However, if you like the style and quality of the ring and can live with the price, only the most skilled jeweler will ever be able to tell the difference.
How Much Will You Spend?
There is a great deal of variation in what you can expect to spend for a vintage wedding ring. While you might think the most expensive options are the genuine article, that's not always the case. In fact, most antiques are sold via venues that offer them for a very reasonable cost.
Reproductions, on the other hand, can run into the thousands of dollars, depending on the type of metal used, as well as the quality and weight of the diamonds. An actual vintage wedding ring, for example, may be sold at an auction for as little as $500, while a similar reproduction may run as high as $10-15,000 or more.
This is largely because these are custom made by skilled jewelers, made to exactly replicate a popular antique ring, such as the Edwardian filigree. You can expect a greater selection and availability with reproductions, but genuine antiques often have nicer ambiance. For a good, middle-ground compromise, look for genuine antique bands that have been re-set with new stones.
For the best prices on antique rings, favor:
Family heirlooms
Estate sales
Auctions
Pawn shops
Rings with stones other than a diamond
Finding Men's Rings
Of course, an engagement ring or women's wedding band aren't the only type of vintage ring that you might be looking for. Men's wedding bands in vintage styles, however, do seem to be a bit harder to find. If you want a matched set, the challenge will be even greater.
The best approach to take with this venture is to find historic documentation on the styles and bands that were available during your particular period of interest. Carry this with you, keeping it as a handy reference if you happen to run into something that catches your eye. It can take time to find the perfect men's band, so you might want to purchase a simple wedding band for the groom to wear while you find the perfect fit.
Always the Perfect Style
Spending the time to source an actual vintage wedding band or ring isn't always possible. In addition, spending thousands on a genuine reproduction may not make sense. Many newlyweds have limited budgets as they start their life together. If you have fairly basic requirements and want a ring that has a vintage flavor without being accurate to the minutest detail, having a custom wedding set made to your specifications can be a good compromise.
Select a qualified jeweler, based upon skill, references and examples of their previous work. Show the jeweler examples of the vintage flavor that appeals to you and work together to create the perfect wedding set for you and your spouse. This route ensures that your rings are perfectly matched and that your budget is kept in mind. There are several ways to save money on this type of ring, including substituting more affordable metals and using stones other than diamonds.
You can also invest in a high-quality setting, using a diamond substitute such as a cubic zirconium. While this may not be your ideal, you can create a beautiful look, replacing the stone with a real diamond as your budget or income allows.
Finding vintage wedding rings and bands can definitely be a challenge. Luckily, many people find the hunt half of the appeal. Whatever your ultimate goal is, you can successfully source a vintage ring by keeping the following in mind:
Always purchase a ring based upon what you love, not perceived value. This is a lifetime investment.
Don't be afraid to ask people about their ring if you love the design and style. This may generate leads.
Haunt out-of-the-way shops, including antique stores, pawn shops and estate sales.
If possible, have the ring appraised before spending any of your hard-earned cash.
If you're purchasing online, always read the fine print. It can be difficult to determine details in photographs.
It's not possible to ask too many questions.
Vintage styles can often be recreated by a small and inexpensive, but skilled jeweler.
Determine what parts of the vintage style you find appealing and focus your budget on those aspects of the ring.
If you love the ring, but not the price, substitute a less expensive stone, swapping it out as you can afford.
These simple tips should help you in finding the perfect vintage wedding ring or band. Your wedding ring is the one piece of jewelry that reflects on your personality, spans the ages in style and color and will be with you throughout your life. While you do have a limited period to select the perfect ring, careful shopping is warranted for this once-in-a-lifetime purchase.